'Jian Dao Zhan Shi' completes filming; sequel preparation with Michelle Ye leading again
21st Sep 2010
Source: Sina Entertainment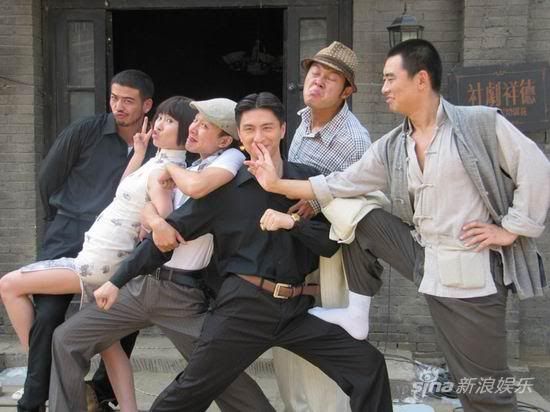 'Father of War Arts' Producer Zhao Junkai's first female leading spy series 'Jian Dao Zhan Shi' has finally completed filming the day before last. The cast of the series includes Hong Kong Film Awards new talent Michelle Ye, Mainland's siu sang, Yang Shuo, Xu Chengfeng and several reputable actors who will bring a mega production series complete with mystery, war, action and love elements in one.
From 'new generation action actress' to 'period era beauty agent'
Be it the police officer in 'Fire of Conscience' or the skilled fighter in 'Choy Li Fut Fists', or the Li Heyin in 'Young Bruce Lee', Michelle's outstanding talent in action scenes has won her the label of 'new generation action actress', and is the leading icon of action actress with her solid acting skills. In 'Jian Dao Zhan Shi', Michelle Ye plays three way spy for the China, Communist and Japan, as the 'Beauty Special Agent', Ming Hui, who is calm and intelligent, as well as skillful in fighting, and with her varying appearances, she will face the heavy dilemma of choosing between the loyalty to country or the faith of love.
Michelle's action stance are all tailored designed by renowned martial arts director, Kang Jingqi. Besides having to fight, shoot and assassinate, Michelle Ye will also be facing the challenge of explosive war scenes. Director is full of praises towards Michelle Ye, because she is able to perform outstandingly be it the extremely challenging action scene as well as the emotional scenes requiring solid acting, she is no doubt the successor of the Chinese movie industry. In the series, this 'beauty special agent' is brought to life with her acting, this series is believed to be a classic one of war theme series.
Ming Hui's fate 'twist' becomes plot of sequel script
Due to her outstanding performance in the series, Director Zhao Junkai has amended the ending of the script in the midst of filming, the role Michelle plays will have a twist of fate, Michelle Ye who initially dies a hero in opposing the Japanese will be miraculously 'revived'. Director express, Michelle Ye's acting has brought out a whole new uniqueness in Ming Hui, especially the inner emotion scenes and unique interpretation, audience will not bear if her role was to die, and thus specially arranged for her to 'come back to life', the ending will give audience an exceptional surprise. It is said that the twist of fate for Ming Hui becomes the plot of the sequel of 'Jian Dao Zhan Shi'. And the series became a popular work at Beijing TV Festival.
'Jian Dao' is hot even before release; Michelle Ye attends several TV Festivals
Crossing three major movie market from Mainland, Hong Kong to Taiwan, Michelle Ye who is gaining recognition from audience is not only the viewing rate guarantor for series, she is also the guarantor of 'sales' for series production series. 'Jian Dao Zhan Shi' has managed to attract much attention in the 2010 China International Film Festival which has just ended, becoming the target of competition for several major TV station. In the Shanghai Film festival in June, two production both led by Michelle Ye, 'Spell of Fragrance' and 'Gu Cheng Wang Shi' are simultaneously competing against one another, and it the first in the history of Shanghai Film Festival.
'Jian Dao Zhan Shi' is hot even before release, producer revealed that the sequel is currently in preparation stage and will again invite Michelle Ye as its female lead, but Michelle Ye who is currently busy filming 'Jian Dang Wei Ye' has yet confirmed if her schedule permits within the year.