24 Dec 2008 - Parts of 'Lady Cop, Papa Crook' censored; Michelle Ye's excellent performance recognized
Parts of 'Lady Cop, Papa Crook' censored; Michelle Ye's excellent performance recognized
Source: Sina Entertainment
24th Dec 2008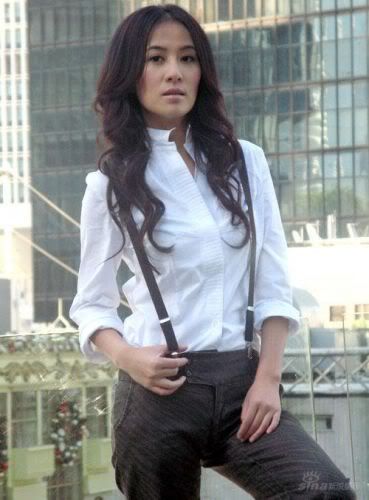 'Lady Cop, Papa Crook' joint directed by Alan Mak and Felix Chong, and casting Eason Chan, Michelle Ye, Sammi Cheng etc has been released nationwide on 23rd this month. As the only movie releasd during the Christmas season, it becomes the choice of movie for fans on the eve of Christmas. The movie has the favorite police-bandit theme, yet is not just any other police-bandit movie, suspense, excitement and comedic elements all bundled in one allowing audience to laugh out loud despite in a thrilling atmosphere.
As known to all, the few leading casts in LCPC are presenting their excellent performance, challenging themselves to present their 'first time': Eason Chan plays solemn 'mafia boss' for the first time, Michelle Ye appears as pregnant wife of mafia boss for the first time, Sammi Cheng's first movie since her return to industry, Zhang Guo Li's first Hong Kong production movie. However, due to a number of sensitive society issues in the movie, parts of the movie have been censored when released, especially for Michelle Ye who appears as 'Ah Sou', her screen time was decreased considerably, causing fans to be quite regretful.
LCPC is Michelle Ye's first released (in Mainland) big screen production, and thus becomes the centre of attention, as well as much anticipated by fans. Although there were considerable censorship due sensitive parts, Michelle Ye's excellent performance in the movie was nevertheless recognized. In fact, this new talent of the movie industry becomes among the highlight of the movie.
For fans who have not have the satisfaction from LCPC, Michelle Ye's upcoming works will surely be appealing enough. She plays female lead in Johnny To's 'Assassins' and then continues to work with Johnny To in his Hollywood production 'Vengeance', also working with Anthony Wong, Simon Yam, etc, as well as working for the first time with France popular actor Johnny Hallyday. With such a strong cast, it is without doubt that this movie will become a production of excellence.