12 Jul 2008 - Critics TVB splitting its own people, Francis Ng exposes Myolie Wu cries claiming acting in series depends on relations
Critics TVB splitting its own people, Francis Ng exposes Myolie Wu cries claiming acting in series depends on relations
Source: Apple Daily
12th July 2008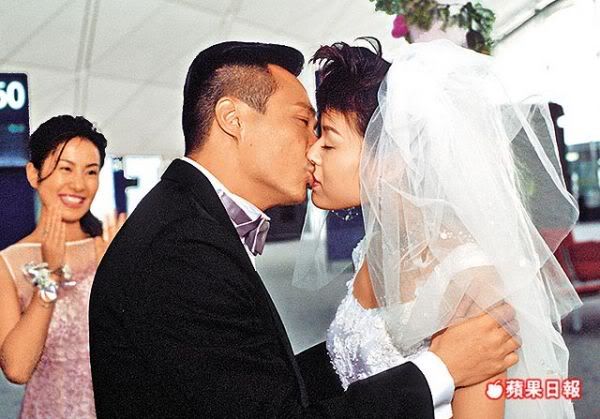 Francis Ng exposes when filming 'Triumph in the Skies', there was an actress who claimed filming series depends on connections, it was said that the actress is Myolie Wu who played his girlfriend.
Recently TVB series "Triumph in the Skies" is broadcasting in the midnight on TVB station, Francis Ng who played Sam in it was at the studio for a program hosted by Sandra Ng as a guest. He criticized TVB's current method of newbies promotion is inappropriate. He exposed that there was an actress that time who cried to him complaining that filming series was not about acting skills but about connections, it was disclosed that the person was Myolie Wu. Francis Ng also frankly expressed that he dislikes TVB's awards ceremony, he believes such an initiation of TVB is obviously splitting their own people inside.
TVB is re-airing 'Triumph in the Skies' starring Francis Ng which was first aired in 2003 very late at night, receiving welcoming responses, the late night's ratings broke the record, the average is 7 points approximately with forty-four thousand audience watching the series. They talked about Francis Ng's fun of acting in TVB at those years, also about the acting level of the actors which has deteriorated.
The new people is lack of acting training
During the program, Sandra criticized harshly on the recent 'Speech of Silence' series acted by Kate Tsui and Kenneth Ma, claiming the acting skills of these new generations seem superficial, Francis Ng too agreed that TVB's direction of promoting their newbies is inappropriate, revealing that they totally have no acting training whatsoever. In fact, that year when filming 'Triumph', Francis has tipped a newbie, he said: "There was once where I intentionally NG that person 30 times, I asked him (or her) why he did not read and familiarized with his lines, the whole crew purposely criticized him."
Francis revealed that during the period of filming the above mentioned series, he advised an actress to put effort in acting, when she unexpectedly cried out, and raised her tone saying that filming series these days is not about acting skills but about connections. Francis said: "What is the logic turning thing this way? What sons, what daughters (pets/favorites)? What's the point having what king, what queen? (TV king/queen), a TV station that shuts its door and splits their own people from within. So what if you win it this time, next time someone elses gets it, wouldn't it be bad if I don't get it? I don't like such things." It was said that the actress meant was Myolie Wu, she accepted an interview in June 2004 claiming she doesn't cry easily, but there are times when it is exceptional, admitting such time like when being NG in 'Triumph'. It was because she couldn't act well and was NG numerous times, and cried not knowing what to be done.
Blames screenwriter for standard deterioration
Actually in the 'Triumph' series, actresses who have scenes with Francis are only Michelle Ye, Flora Chan and Myolie Wu, where Michelle has least scenes with him, while Flora has years of rich experience, not fitting into the description of a newbie. The newbie actress Francis mentioned, playing his loved one as well as having most scenes with him is none other than Myolie Wu. When reporters called Myolie to clarify Francis' claim, she denied being the actress Francis meant, she said: "That definitely is not me, how can filming series not depend on acting skills!"
What Francis is most dissastisfied about is how TVB feels that they are benefiting artists (non-TVB) that they asked to film series: "I film for you because I respect you, not to benefit myself or to promote myself, they (TVB) kept feeling that they are benefiting others, one promotion is a few hundred thousand (HKD), if you go out (for promotion events) everyday, you get a few millions, but they never think of how many millions I have helped them earn! And they don't even pay high."
Sandra also criticized the level of the TVB scriptwriters has deteriorated. 'Love Exchange' by Michael Miu and Anita Yuan was just a like a radio drama, while the confession of love scene in 'Speech of Silence' by Kenneth Ma and Kate Tsui couldn't be more fake, she said: "How do screenwriters these days write, the ones who act are fake, the series become fake, not refreshing and not romantic at all!"