05 Oct 2007 - News Queen suddenly becomes low profile
News Queen suddenly becomes low profileMichelle Ye immune to all
Source: Sun Paper
05 Oct 2007
Having experienced success or failure can cause someone to change. Michelle Ye who was once news queen with high profile has now become low profile and silent, even her promotion influence is no longer as dominant as those years, she insisted: "I have always been so, I have not changed!" Towards the rumors of having a cold (uneventful) year and accepting shows, her answer remains the same. Michelle Ye indeed has a way of survival and becoming immune to all.
Water can be benefiting and can be harmful as well. Michelle who had once believed to be able to be in control of her rumors and gossips had propelled her career to the peak with news in the past. The year before last however when she was exposed to be ill-treating her assistant, her image immediately deteriorated. Filming and accepting shows in Mainland for an uneventful year, she had returned a few months before to film new series 'Tutor Queen' and became a totally different person. She chose to isolate herself, becoming a loner, she is definitely nowhere comparable to the rumored icon with Shell King as well as the god-daughter of Zheng Yu Tong. Her words used to be strikingly straightforward, now she beats around the bush, answering discretely.
Her change of 'style', is it for self-protection or is it the result of self-reflection? She answered: "I have always been this way, nothing unusual, I didn't go to Mainland to cool down those news, I have been spending half of my time in Mainland every year, the other half I will be in Hong Kong, it has never changed, it's only you who say that I'm cooling down and being uneventful? There's no such thing!"
No need to be serious about rumors
To become a long-life bird, one needs to know how to live in her own world and know how to self-console. Be it her new or old rumors, the Michelle today even 'conserves' her energy clarifying them. She bluntly said that it was promotion tactics, her manipulative talking has achieved a whole new level, she said: "I have never bothered about these made up news for a little promotion. Most people treat it as chatting topics after a meal, why be so serious about it, so I usually forget about it within a minute. After entering this industry for so many years, I have already experienced so much that I've become immune to all. It does not matter how outsiders see me, it is too troublesome to bother. Most importantly my friends understand me, it is enough that those who've collaborated with me know that I'm not like what outsiders say!"
Don't wish to speak much on love relationship
After losing 'Shell', Michelle's new love became anonymous, it is claimed to be Mainland's young seafood tycoon, and in addition to her God Father Zheng Yu Tong, her publicity value is still very high. Towards her god-father's public claim of not contacting her a few times before, Michelle said: "We actually still do meet up, only that you guys won't have chance to see it."
As for her boyfriend Steven who had carried her into ER at the hospital when she accidentally stabbed her thigh, she said: "We're still like that, still together, but I don't wish to talk too much on my relationship. He lives in Mainland, media won't have much chance to see him." Everything has changed after a year, but her skill to control rumors is just like what she said: "Still so, have not changed!"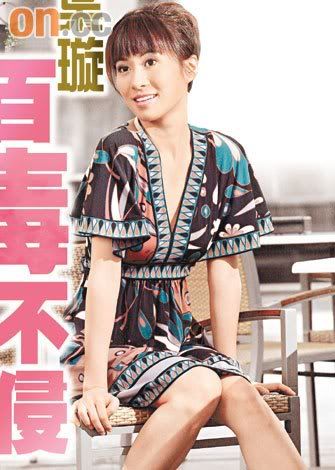 Michelle Ye denies returning to Mainland to work to 'cool down', insists her way of work has not changed.
No clarification or response for her new or old rumors, Michelle suddenly becomes low profile and silent.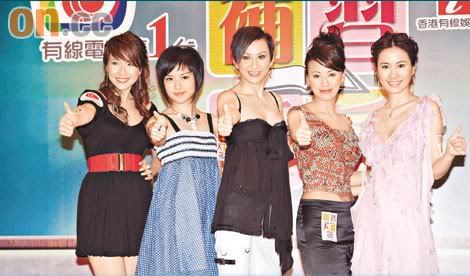 Michelle Ye plays a determined woman in 'Tutor Queen', this time she chose to isolate herself to become a loner.