26 Sep 2007 - Michelle Ye and Sun Fei Fei meet fans
Michelle Ye and Sun Fei Fei meet fans
Source: Straits News
26th Sep 2007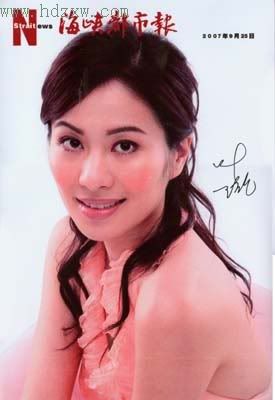 Michelle Ye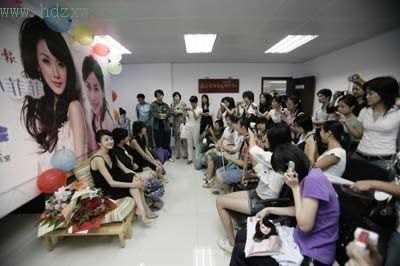 The entire crowd 'liven' up at the appearance of both celebrities.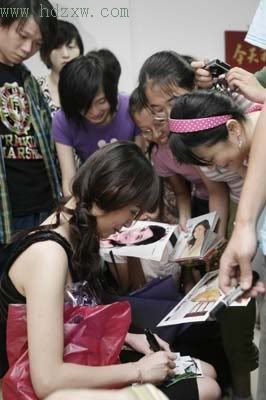 Michelle's fans hope to have her autograph their entire collection
"Sun Fei Fei, Michelle Ye has arrived!" Yesterday afternoon, the leads of family drama 'Jiao Yi Sheng Ma Ma' Sun Fei Fei and Michelle Ye appeared in their adorable black dresses, to meet with their fans. Reporters were also there to meet with the two beauties and presented Sun Fei Fei and Michelle Ye with anniversary posters. The fans became excited being able to come in contact with their idols at such close distant, presenting their gifts and flowers to their idols. Michelle Ye and Sun Fei Fei answered all the questions asked by fans.
Fujian Channel will be airing 'Jiao Yi Sheng Ma Ma' starring Michelle Ye and Sun Fei Fei starting from October 7th.
Fuzhou Impression
Sun Fei Fei said Fuzhou is not unfamiliar to her. "I remember that Fuzhou has a kind of delicacy and also their fishballs which I can barely forget." Sun Fei Fei expressed she has been to Fuzhou for filming before, and has eaten much of their local delicacy. During the meet yesterday Sun Fei Fei was full of praises for their local delicacy.
In comparison, it was Michelle's first visit to Fuzhou. Due to her hectic schedule, Michelle regretfully expressed that she has yet have the chance to have a good tour around Fuzhou, but the deepest impression of Fuzhou was her Fujian fans are very warm, "Fuzhou fans are really warm, I will definitely come back again with their support."
Fans' Excitement
Even though it was a Tuesday, many fans rescheduled their work time to not miss the golden chance to meet with their idols. Some fans even expressed that she was so excited she couldn't sleep the entire night.
Michelle's fan said she took a day off to come to Fuzhou in order to arrange the gifts of Michelle's fans and to pass to Michelle personally. "I like Michelle, but my mother likes Sun Fei Fei, I am here to take photos (of Sun Fei Fei) for my mother as well." There was another fan who said: "I have collected both of their series, it's totally unexpected I get to meet both my idols today, I'm too happy!"
Michelle Ye: Has chemistry acting with Zhang Mo
In 'Jiao Yi Sheng Ma Ma', Michelle Ye have scenes with Zhang Mo, Zhang Tian Lin as well as Cao Lei. Yesterday, Michelle said, "The kissing scene of Zhang Mo and I by the lake should be the one with most chemistry." She also revealed a tip in filming, she said that the scene seemed sad, "But actually we had to walk by the lake round and round again before absorbing into the series. The filming moment in fact felt very warm." Michelle also expressed that she loved acting with Zhang Mo most, "because he will go along with me most of the time."
In the hearts of many Michelle fans, the 'Eternal Happiness' starring Michelle Ye and Raymond Lam was most popular. As to if they will ever collaborate again, Michelle expressed, as long as there is a good script, she will. She also joked with Wang Li Ping, the producer at the scene, "Don't let me wait like the little dragon girl, waiting up to 16 years ah!"
Sun Fei Fei: Wants to become Olympics volunteer
Sun Fei Fei who plays bad woman Jian Yuan Yue in the series has got Wang Li Ping's praise, saying her performance was very impressive. But in real life, Sun Fei Fei is in fact kind and pure like water. "In this series, I experience how life is like a movie, and how movie is like life." However, Sun Fei Fei also expressed she is most worried if her family can accept it, "My grandfather is a very conventional person, he won't be able to accept me playing this kind of bad roles."
As to her other plans for the rest of this year, Sun Fei Fei expressed that besides filming another series, her other movie will be aired soon. Besides, Sun Fei Fei also expressed she has collected Olympic songs, and have penned down her feelings for every song. When discussed about Olympics 2008, Sun Fei Fei said: "I am anticipating the theme song. I also hope that I am not too busy at that time so that I can become an Olympics volunteer."