| | |
| --- | --- |
| Posted by MYR on February 13, 2007 at 10:51 AM | |
13 Feb 2007 - Michelle Ye laughs while cooking; Jimmy Wong has a stance in being man
Source: Sina Entertainment
Michelle Ye laughs while cooking; Jimmy Wong has a stance in being man
Michelle's funny photos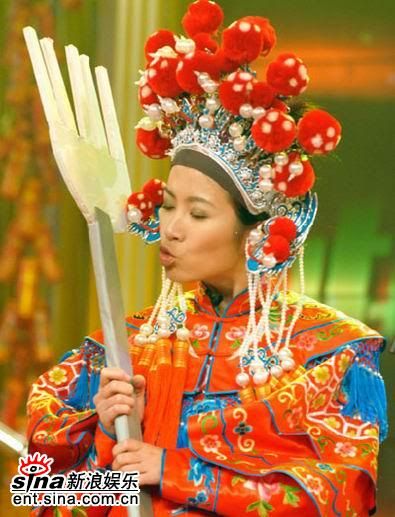 "Kuai Le Hui Jia" – "Kuai Le Da Zhu Chu" first semifinals, Michelle Ye PK Jimmy Wong!
Michelle Ye who has always been crowned by HK media of the 'Electrifying Queen' label is actually very charismatic and jolly, at the scene she constantly jokes and laughs with the host and judges while cooking, and kept making the atmosphere interesting with one another.  When the panel Lin Guangchang commented that "Jimmy Wong was given a less fresher fish than Michelle Ye, Michelle immediately cracked that her fresh fish has bitten his to death, causing the entire set to burst out laughing.  Michelle also constantly makes face to entertain her 'little seahorses' fans.  Michelle's culinary skills improved a lot since the first contest with Li Yaolin, this time be it her knife skills or on the stove, she appears more experienced.  When the wok suddenly went on fire, Michelle suddenly paled, but quickly calmed down and took the wok away from the fire source, unlike Wu Xin from before who was in a chaos and begged for the host's help.
In comparison, Jimmy Wong whose pu tong hua was not too fluent was being realistic and serious while paying attention to his dish creation.  Jimmy who debuted as a model has a unique aura, and carried a smile from the beginning to the end, having the gentleman's appeal causing the two women judges to fall for him.  Beautiful judge Zhong Liti not only watches Jimmy Wong without averting her eyesight but also exclaimed that his cooking is delicious, "No wonder his girlfriend loves him!"
Then, will Zhong Liti fall for the beauty or be loyal to only tasty food? 
13th February, 19:35, let us go home happily!
(Kuai le hui jia basically means going home happily)