27 Feb 2008 - 'Jiao Yi Sheng Ma Ma' aired nationwide, Michelle Ye as viewing rates guarantor
'Jiao Yi Sheng Ma Ma' aired nationwide, Michelle Ye as viewing rates guarantor
Source: Sohu Entertainment
27th Feb 2008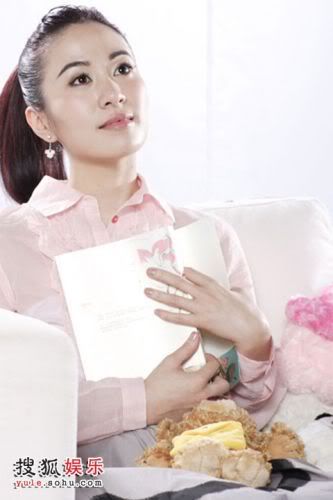 Sad series 'Jiao Yi Sheng Ma Ma' starring Michelle Ye, Zhang Mo, Sun Fei Fei, will be aired on four channels - Hubei, Tianjin, Zhejiang, Hebei respectively on the coming March 3rd. This series was directed by renowned director Zhang Xiao Guang and popular scriptwriter Wang Li Ping, becoming the classic of touching films.
'Jiao Yi Sheng Ma Ma' tales about the background of two generations, the love-hate of mother-daughter. Popular fa dan Michelle Ye plays a righteous and kindhearted Jian Xiao Dan, where her sister schemes ploy on her, facing numerous obstacles in love and family. Due to her sister's ploy, she lost her chance to further her studies abroad, also causing her to lose her loved ones one after another, and was even imprisoned to due accidental murder of her very loved boyfriend, Gong Ke. Facing with these obstacles, Jian Xiao Dan (by Michelle Ye), never gave up, she fought her fate with will, where her virtuous heart and tolerance finally blessed her a happy yet touching relationship with her childhood friend, Liu Wei Qiang. 'Jiao Yi Sheng Ma Ma' appeals to audience with extreme dilemmas and unexpected plots, allowing audience to experience the emotion turbulence with the script.
Michelle Ye successfully portrayed the tolerant and kindhearted Jian Xiao Dan from her unique point of view, winning praises from the director and crews. On Michelle's understanding of the script, Wang Li Ping praised her: "She ensures all her movies or series to have her unique aura… such an inspired and positive actress is very rare."
Recently, 'Central Affairs' starring Michelle Ye too emerged champion in the viewing rates nationwide, while her 'World's Finest' and 'Lost in the Chamber of Love' too are airing with excellent viewing points. Michelle has become the viewing rate guarantor in Hong Kong as well as in Mainland. Is it without doubt that the airing of 'Jiao Yi Sheng Ma Ma' will again stir the rise in viewing points. Meanwhile, 'Sniper' starring Michelle Ye, Huang Xiao Ming, Richie Ren and Edison Chen will soon hit the screens, a newbie in the movie industry, Michelle will again be busy with promotion activities.