23 Jan 2008 - Michelle Ye as guest at 'Kuai Le Da Ben Ying'; humor and quick wits causes entire set erupts with laughter
Michelle Ye as guest at 'Kuai Le Da Ben Ying'; humor and quick wits causes entire set erupts with laughter
Source: Teng Xun Entertainment
23rd Jan 2008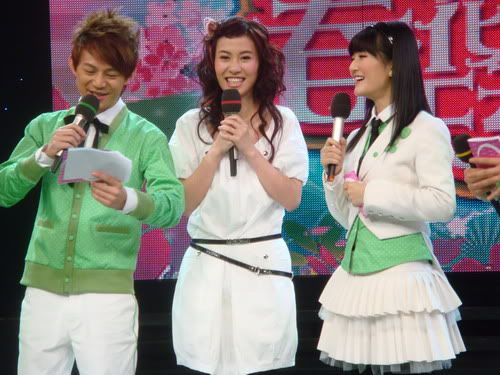 The day before last, Hunan TV's 'Kuai Le Da Ben Ying' invited the lead of currently airing 'Central Affairs', Michelle Ye to film a special segment for Chinese New Year. Michelle was humorous and quick witted at the shooting set, winning cheers from the entire set. A popular fa dan of Hong Kong TV series, Michelle led in the 'Central Affairs' series, and is recently aired on Hunan TV, the viewing points has won the top position. When the series was aired by Hong Kong ATV, it also achieved excellent results, beating the other series by TVB at the same slot time, becoming the pride of ATV.
On Jan 20th, Michelle came to Hunan TV to participate in the Chinese New Year show 'Kuai Le Da Ben Ying'. At the shooting set, Michelle was dressed in a white dress, appearing with a youthful image. Dancing and singing, her quick wits and humor as well as her 'bunny dance' with Xie Na entertained the entire set thoroughly. In the segment of acting skill challenge, Michelle proved her acting skill with superb performance of being able to cry with tears within 15 seconds. In her interview after the show, Michelle praised the host to be 'multi-talented host'.
Michelle Ye represented New York to participate in Miss Chinese International beauty pageant organized by Hong Kong TVB and was crowned the winner while winning the 'Miss Classic beauty' award simultaneously. She later signed contract with TVB and filmed 'Gods of Honor', 'Reaching Out', 'Network Love Story', 'Eternal Happiness', 'Golden Faith', 'Lofty Waters Verdant Bow', 'Triumph in the Skies' and many other series, becoming TVB's most favored fa dan.
After her contract with TVB expired, Michelle Ye signed with Hong Kong Media Asia Film company, and started her career progression in the movies. Her debut movie 'Moonlight in Tokyo' won her nomination for the 'Best Newcomer' award. Movie offers were abundant after that, besides filming 'Sniper' with Huang Xiao Ming and Richie Ren, she has also just finished filming a movie 'Cha Zi Neui' recently. In the movie, she plays a couple with Eason Chan, the plot is lighthearted and comedic yet touching too. After Chinese New Year, Michelle will begin filming two more movies. Although work is a little tiring as she is working even on the second day of Chinese New Year, Michelle frankly expressed that work is her interest, thus she does not feel tired out.