29 Jan 2007 - (Old issue) Michelle becomes Latin dancing queen in 10 minutes
PAGE 40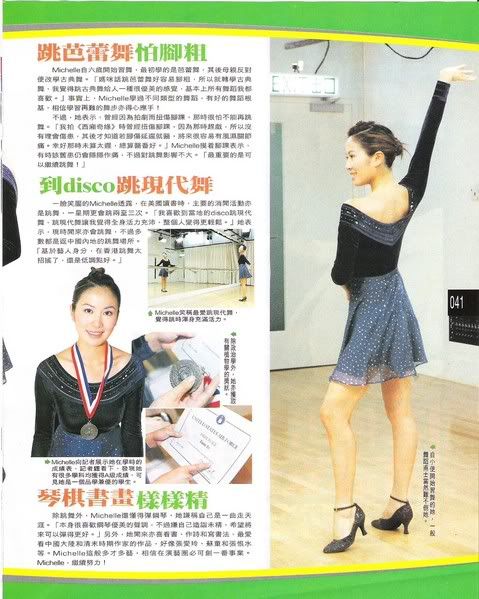 Michelle becomes Latin dancing queen in 10 minutes
Watching Michelle dance is really interesting.  Recently, for the filming of 'Yu Lok Dai Sau Cha', she watches the Latin dance instructor's demonstration.  It was less than ten minutes when she has already learnt the dance.  She spins around, and then hops some steps, and even constantly wears a smile.  Michelle has been learning dance since young, it's no wonder she could become Latin dancing queen within such short period of time!
PAGE 41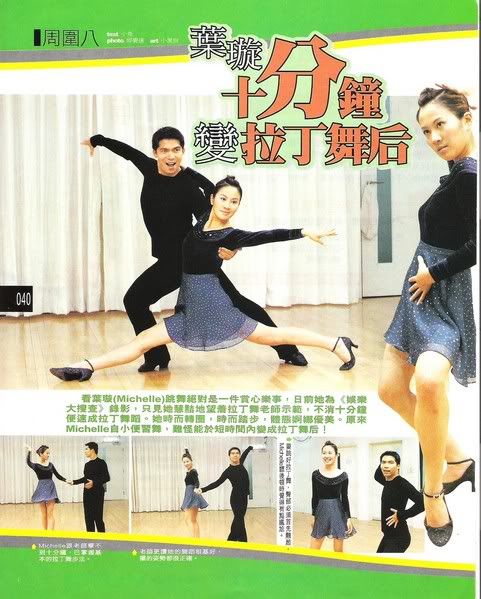 Dancing ballet; Afraid of muscular legs
Michelle started dancing at the age of 6, the first dance she learnt was ballet, but later her mother objected and changed to have her learn classical dance.  "Because it is easy to develop muscular legs for ballet dancers, thus I changed to learn classical dance, I think classical dance give a feeling of (blur words), basically I like all kinds of dance."  In actual fact, Michelle has learnt all kinds of dance.Michelle expressed that she was ever injured while filming, at that moment she was really afraid that she may not be able to dance again.  "While I was filming 'Lost in the Chamber of Love', I suffered an injury (guess: leg / ankle part), because we were rushing with the filming, I did not bother with the injury.  Later I realized that the injury became more serious, and is easy to lead to further complications.  Luckily it was not too bad yet that time."  Michelle expressed that the old injury has some after effects of aching at times, but it should not be much obstacle for her to dance.  "The most important thing is that I can continue to dance!"
Dancing modern dance at Disco
A smiling Michelle revealed that while studying in US, her main leisure activity is dancing, dancing about 2 to 3 times in a week.  "I like to go to the nearby disco to dance modern dance, it allows my whole body to feel recharged of energy and spirit.  My whole person will become relaxed."  She expressed that whenever she's free she will dance, but more frequently in Mainland clubs, "As an artist, it is too attention catching to dance in Hong Kong, it's better to be lower profile."
Above picture: Michelle smilingly said she loves dancing modern dance the most as it lets her become recharged of energy and spirit.
Left Side  picture: (blur words)
Right side picture: Michelle allows the reporter to have a look at her report card.  After scanning through, the reporter realized there are a lot of subjects that she obtained 'A' (blur words)
Gam Gei Shu Wa – She's expert in everything (Music, Chess, Studies and Art – Chinese way of saying a well rounded person) Besides dancing, Michelle also knows how to play piano, and presented a piece.  "I personally like the beautiful feeling of playing piano, but I am not very familiar with it.  Hopefully I can improve in it in future."  In addition, she smiled saying she loves to read books, write poems and practice calligraphy.  She loves most to read works of China authors from the Qing dynasty, such as Zhang Ai Ling, Su Tong and Zhang Hen Shui, etc.  Michelle is so multi-talented, thus she will surely have a successful career in the entertainment circle.  Gambateh Michelle!