15 May 2007 - Easy Finder #799: Show price decreased by 40%
Easy Finder #799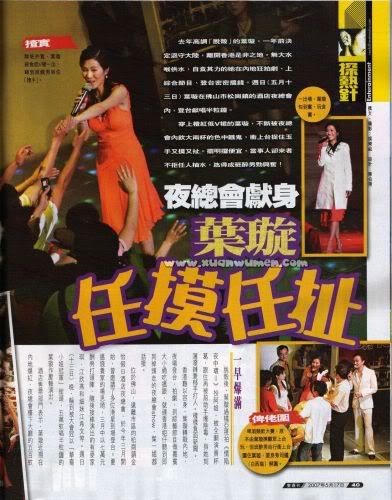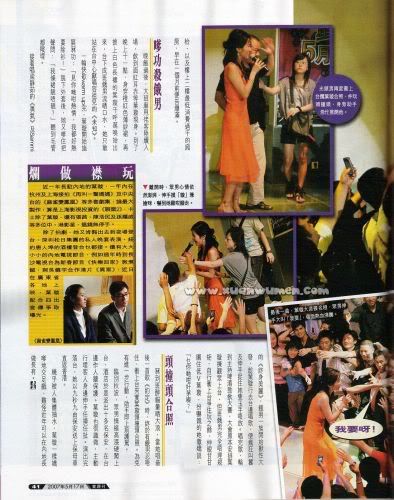 e-HOT: Show price decreased by 40%; 30 thousand HKD for Michelle Ye to suffer harassment
Michelle Ye who has always been living in the wealthy society has lost her 'electrifying' wattage after losing her 'Shell'.  Her price paid for show decreased – on Sunday night (13th May), Michelle Ye performed at Nan Hai Vacation Resort, and sang a total of 5 songs for the night.  She performed all she has, and was even bumped from behind by an audience, but yet only received a figure of 30 thousand, a drop of 40% as compared to the 50 thousand she received when she was popular.  After all the sweats for the show, it was barely enough for her monthly 30 thousand expenses, it seems that Michelle may need to perform a few more times to cover it.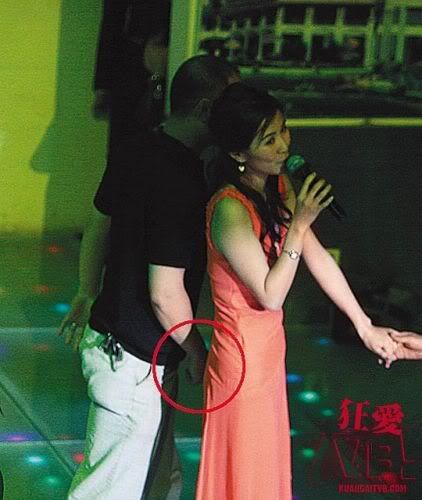 Built man bumping behind
While Michelle was singing Fish Leung's 'Yong Qi' (Courage), a man in black rushed upstage wanting a photo of them together.  The bighearted Michelle did not refuse, however the man in black suddenly went behind to approach Michelle, the back of his hand accidentally bumping into her behind.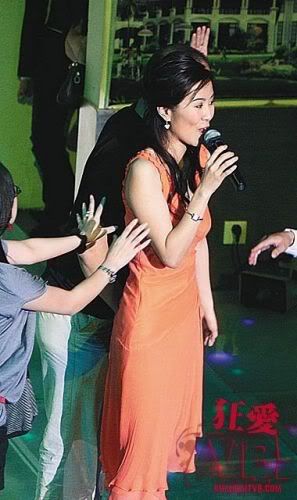 Pushes man; Protects beauty
A female staff saw the incident and immediately went onstage to push away the man while Michelle was still professionally singing her songs.
Giving away sexy photos
The response from the audience was just satisfactory, but Michelle has prepared for this.  She gave away her autographed sexy photos to the audience, while saying in Mandarin "Hope to see you everyday, thank you for Fo Shan fans' support, thank you!"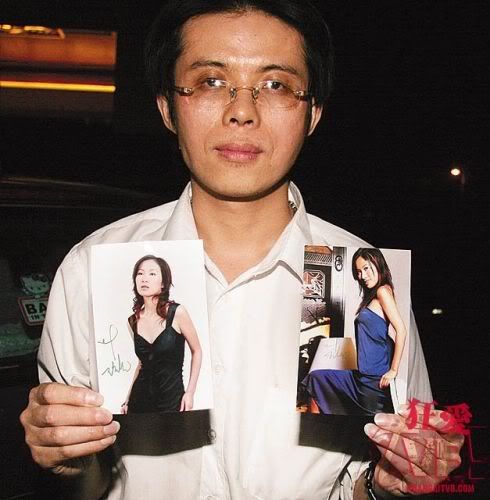 This audience who got two of Michelle's autographed sexy photo sang praises that Michelle is beautiful and has a sweet voice, but he mentioned that he didn't came to the function tonight because of Michelle.
At the beginning of the show, Michelle was clad with a long white coat, however seeing the common response of the audience, she immediately called her assistant onstage to take away her coat, and went on to perform whole-heartedly.
Horse owner buddies
On the 29th last month when Michelle attended a horse race, her good friend by her side, make up personnel Doris Mak, and the horse owner, Wu Chun Ciu were together. It is known that Wu and Doris is a couple.  Wu has two horses, and has ever established a company with Frankie Lam in 2005 but Frankie backed out at the end of 2006.  Doris and her husband lived in the same estate, but the earlier lives in block 6 while the latter lives in block 3 – they are neighbors.
Source: kuangaitvb.com