| | |
| --- | --- |
| Posted by MYR on August 5, 2008 at 10:26 AM | |
05 Aug 2008 - 'Lady Cop, Papa Crook' to hit the screens soon; 'Ah Sou' Michelle Ye transforms to 'university student'
'Lady Cop, Papa Crook' to hit the screens soon; 'Ah Sou' Michelle Ye transforms to 'university student'
Source: Sina Entertainment
5th Aug 08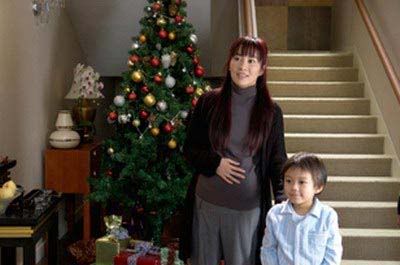 Hong Kong Media Asia's movie of the year, 'Lady Cop, Papa Crook' has established its official website (http://www.mediaasia.com/lcpc/). This movie is a collaboration of Alan Mak and Felix Chong, also casting Eason Chan, Michelle Ye, Sammi Cheng, Zhang Guo Li, etc famous actors, attracting attentions of all fans. In themovie, Eason plays a mafia boss while Michelle Ye plays a supporting yet determined wife, Yun Mei (婉微/Wan Wei), while Sammi Cheng plays high ranking police officer.
'Lady Cop, Papa Crook' is Sammi's first movie after her return, also Eason's most challenging movie, and is Michelle Ye's most enjoyable movie she filmed to date. This is her first time playing an 'ah sou' (wife of a big boss) of the triad society, and is also pregnant woman, thus her fans are anticipating in excitement. In fact, pregnant woman is not so easy to play, especially for those slim actresses, they need to be ready to sacrifice. Director has ever felt that Michelle was too skinny, thus Michelle began eating more to allow herself look chubbier in order to match her role in the movie more. Such determination and dedication of hers resulted her pregnant woman role to be portrayed very charmingly and realistically. Even the crews and other casts became especially more protective over this 'expecting mother', doting and caring for her more.
Changing one's outer look for the sake of their role is a norm for actors, but to be able to handle two extremely contradicting roles with ease is not too easy to achieve. Michelle Ye who has just played the 'ah sou' of the triad society will be immediately filming a new series which requires her to change 180 degrees around – to play a beaming and youthful university student. The producer favors Michelle Ye who is a student of the State's established college, where her lively and sunshine characteristic matches the Beijin university student a lot. Thus, they strongly recommended her to act in this university theme series with her own nature. Meanwhile, Michelle Ye chose this series over the many other scripts because she wished to have change from the solemn atmosphere of acting in both 'Lady Cop, Papa Crook' and 'Assassins' and to revisit the warm feelings of the school-days' innocence and joy. She is currently rushing to finish her filming for the movies which will end in mid of august and will be filming hew new series right after.