| | |
| --- | --- |
| Posted by MYR on June 21, 2010 at 8:01 AM | |
Source: Chengdu Resource
21st Jun 2010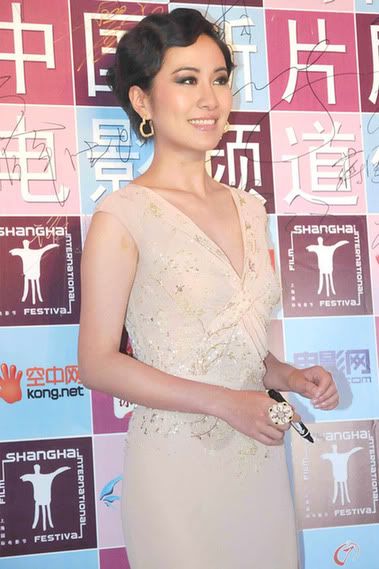 During the Shanghai International Film Festival, newly crowned Best Supporting Actress Michelle Ye was present as an invited guest. Towards an earlier incident in which news claimed that she rejected filming for free for a student's short movie 'No Rest for Restroom' after winning the award, Michelle Ye responded: "Read and laugh, laugh and forget."
That night, Michelle Ye appeared with ancient classic beauty on the red carpet, radiating thoroughly her classic beauty aura. Although her career is smoothly on the rise, there was an incident earlier on where Hong Kong media criticized her, claiming that she rejected filming a short film, 'No Rest for Restroom' for free for a student after winning the HKFA Best Supporting Actress award, however the incident has been denied by the director of the film, while also highly praised that Michelle Ye continued to film (for free) professionally after winning the award.
When contacted upon arriving at the ceremony, Michelle Ye responded towards the incident saying: "A lot of news needn't my explanation at all, they just love to write stories, it is more important that the plot is interesting that it is true. This short film has won awards, everyone will know the truth after watching it." Towards her relationship with Hong Kong media, Michelle Ye said so long she is not guilty, she doesn't bother how others see (her), and because she was hurrying down the red carpet, she did not have much chance to say more, but finally left a line of moral saying: "Some matters, just read and laugh, just laugh and forget, there is no need to take it seriously."
--------------------------------------------------------------------------------
Source: Sohu Entertainment
21st Jun 2010