| | |
| --- | --- |
| Posted by MYR on September 7, 2009 at 8:13 AM | |
Source: East Daily
7th Aug 2009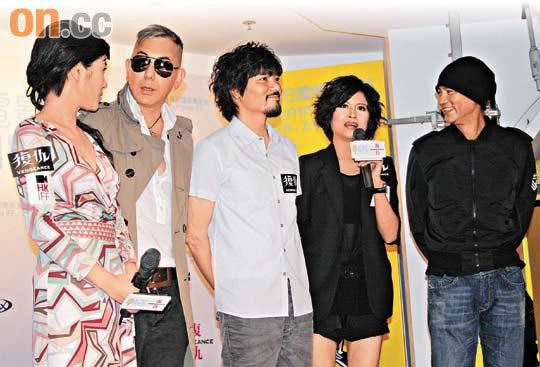 Yesterday, Johnny To led the casts in 'Vengeance' to attend the movie's premier ceremony, in which he collaborated with French singer Johnny Hallyday, and highly praised him to be humble and has no airs at all, and instead exposed that Hong Kong's 'superstars' have lots of demands and are hard to please.
Hong Kong's 'International Summer Film Festival 2009' was officiated last night, where Johnny To's 'Vengeance' became the officiating movie, while the closing movie was America's romantic comedy, '500 Days of Summer'.  Johnny To leads Anthony Wong, Simon Yam, Gordon Lam, Michelle Ye and Maggie Shiu, etc casts in 'Vengeance' to the opening ceremony, the atmosphere was lively.   
Anthony not a superstar
During the opening ceremony, Johnny To claimed that Hong Kong's superstars have lots of complains, whereas Johnny To from France was friendly.  Anthony laughed saying: "I thought he said I've a lot of complains, but when he specified it to be superstars, I was relieved, cause I'm not one."
Johnny To highly praised Johnny in the event: "He is very famous in Europe, and has been popular for 50 years, and has more than 200 concerts this year alone, but his tolerance is way better than Hong Kong's superstars."  He also exposed that Hong Kong's celebrities have several assistants to serve when they go around: "Hong Kong's super stars have many aunties, mummies, sisters (assistants) following them around."  Asked if he has been tolerating lots of Hong Kong stars' tempers?  Johnny To mocked slightly: "Everyone have different mood at different time, like Stephen Chow, he is quite friendly at times."