| | |
| --- | --- |
| Posted by Kim on September 7, 2009 at 11:44 AM | |
Source: Apple Daily
7th Sep 2009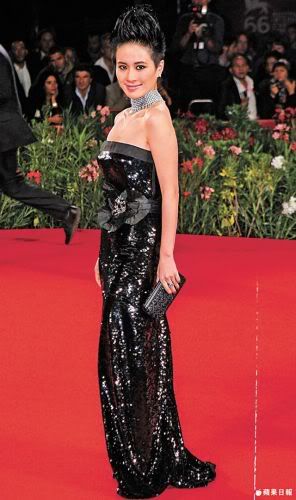 66th Venice Film Festival is at its heat, 'Accident' directed by Cheng Pou Sui is nominated in the festival and is expected to premier tonight.
Directed by Cheng Pou Sui, Media Asia produced 'Accidents' is nominated in the film festival. Present on the red carpet includes Media Asia boss Lam Kin Ngok, director Cheng Pou Sui, male and female leads, Louis Koo, Michelle Ye, Richie Ren and Han Yu Xin.
Male and female lead Louis Koo and Michelle Ye are members of an assassination organization in the film, both of them appeared to be sizzling in chemistry on the red carpet, both appearing in black evening suits, the pair of good looking couple raised excited screams in their crowd of fans. Louis was dressed in DSquared suit, and appeared as charming knight on the red carpet, while Michelle Ye who was in Dior's evening gown was also sponsored Bulgari's jewelry.
Audience applauded for 6 minutes
'Accidents' premier won an impressive applauds that lasted as long as 6 minutes, Cheng Pou Sui was touched to tears and embraced his wife. Associated Press critics praised 'Accidents' to have lost the common gun battle and redefined the police-bandit movie theme in Hong Kong. However there were Mainland media who claimed that 'Accidents' was biased towards commercialized theme and was just average in the opening as well as theme emphasis, the manner of approach was claimed to be quite some gap from Johnny To's style.
_______________________________________________________________________________
Source: Ming Pao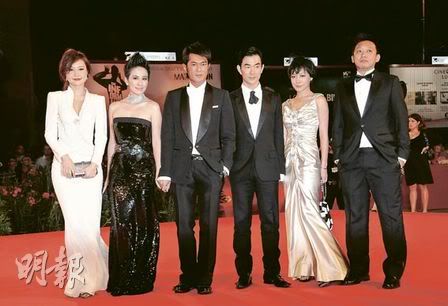 __________________________________________________________________________________
Source: Eastern Daily