| | |
| --- | --- |
| Posted by MYR on February 3, 2009 at 10:12 AM | |
03 Feb 2009 - Michelle Ye 'Forward Courageously' with new year wishes
Michelle Ye 'Forward Courageously' with new year wishes
3rd Feb 2009
Source: Sina Entertainment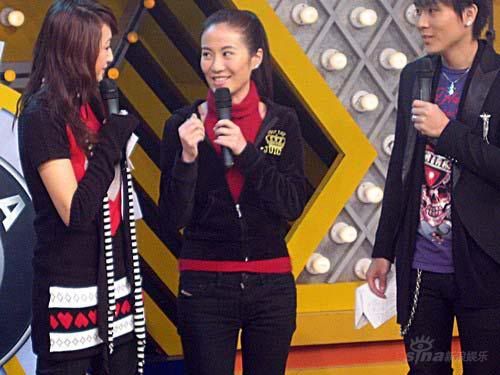 Hunan TV channel popular show 'Forward Courageously' invited celebrities - movie and series successful actress Michelle Ye, Japanese comedy king, Yano Koji, etc. This episode of 'Forward Courageously' with the four guests present to challenge are the favorites of Changsha audience, especially Michelle Ye's presence brought lots of fans to crowd the set, her popularity brought much hype to the show.
Michelle Ye appeared in a red turtle neck top with black coat, her sporty and youthful look was most appropriate for the show. Her every move was observed closely by her fans who were surrounding the set. The games in the show were all testng the courage of the guests, thrilling yet humoring at the same time. Michelle was as sporting as the male guests, participating in the games very enthusiastically. However, the extreme games caused Michelle to be in cold sweat as the director of the show did not warn her that they will be coming to film for such extreme games. Michelle appeared to be pale with fear as she stood before the 50KW power station, but as she thought of the charity fund to be won, she finally screamed while grasping onto the wire before succeeding in completing the segment.
Johnny To's first Hollywood production 'Vengeance' will continue filming right after the Lunar New Year celebration, Michelle Ye will be working with Simon Yam, Felix Wong,, Johnny Hallyday, etc first rate movie kings, becoming the highlight of the movie as the female lead. Meanwhile, Michelle will soon start filming another thriller movie, playing an entirely different role this time around.