23 Dec 2008 - News Queen Michelle Ye going 'low profile'; working silently and waiting to reap her results
News Queen Michelle Ye going 'low profile'; working silently and waiting to reap her results
Source: Sun Paper
23rd Dec 2008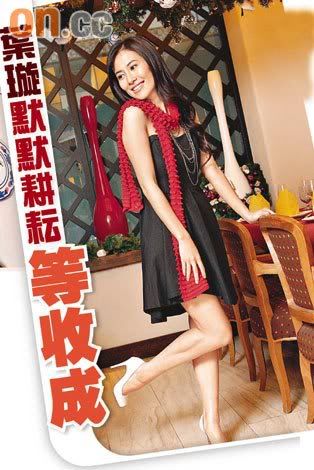 Michelle Ye loves to read and travel most, enjoying her personal time.
Michelle Ye who was once labeled 'News Queen' seemed to have quiet down a lot recently, but she is in fact working quietly. Michelle Ye who had been entangled with ceaseless rumors in fact does not bother much about then, even with constant attacks from the media, Michelle is never resentful towards media, she deems the relationship with media is a balance, hoping everyone to be able to work happily together!
Michelle Ye who was once entangled in ceaseless rumors, she laughs at her rumors and personally feels that she does not 'stir trouble'. In her personal life, she prefers to stay away from gossips, and to have more of her personal space. Asked if she feels she feels that she has quiet down recently? Michelle clarified calmly: "Haha, not really, I just quiet down to work silently! But upcoming, I will have some movies releasing, haha! It is time I reap my efforts, anyway, I'm just happy and anticipating! Although I was labeled 'News Queen' in the past, but I don't mind much, I'm just cooperating with company's promotion tactics! Personally, I prefer more personal space, I like to read and travel, as for work, whatever the company asks, I just do them, I'm very obedient!"
Happy collaboration with media
Discussed on the relationship with media, Michelle feels that their relationship is a balance, she said: "If the media treat me like a friend, everyone can work happily, I will be happy too! Of course there are some not too friendly media, that will become a pain, but despite it, everyone is just working! Cooperating is a good thing. As for if I would be bothered if I were to treat media as my friend, I haven't thought so far ahead."