22 Dec 2008 - Michelle Ye in Beijing, eats by street restaurant wearing fur coat; suspected to have lost in value of properties
Michelle Ye in Beijing, eats by street restaurant wearing fur coat; suspected to have lost in value of properties
Source: Wangyi Entertainment
22nd Dec 2008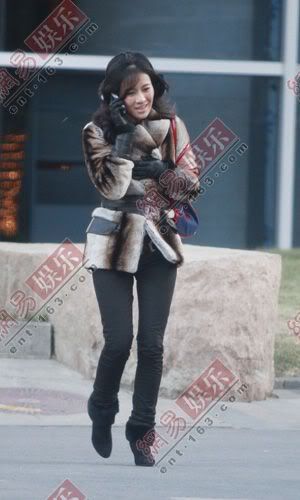 Michelle Ye clutching to her coat to keep warmth while on the phone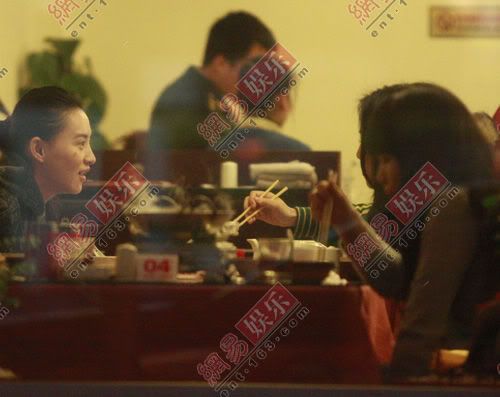 Michelle and friend at dinner.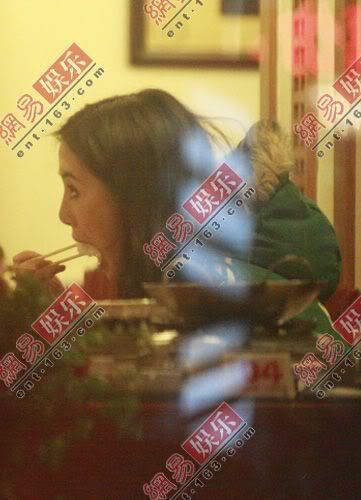 Michelle taking in big mouthful of rice, having a very good appetite.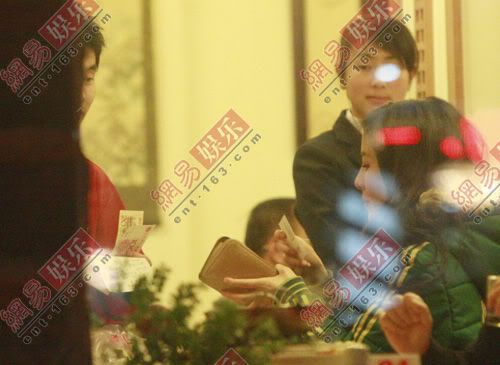 Michelle taking the bill after dinner.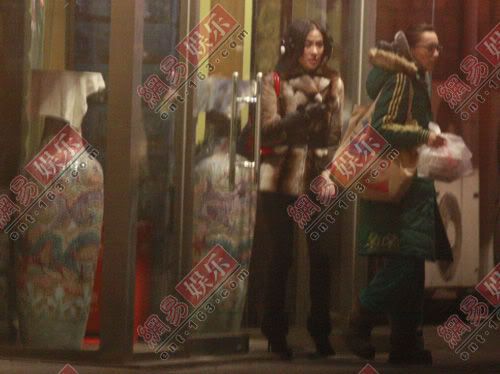 Both of them did not forget to take away the leftover.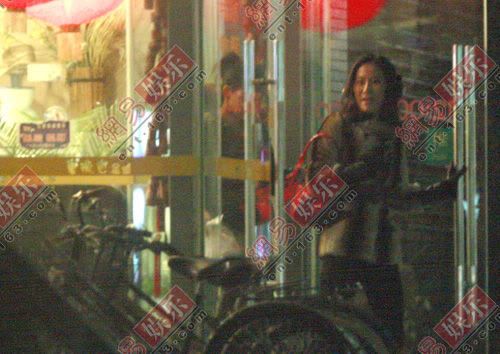 After relaxing, Michelle exiting from spa centre.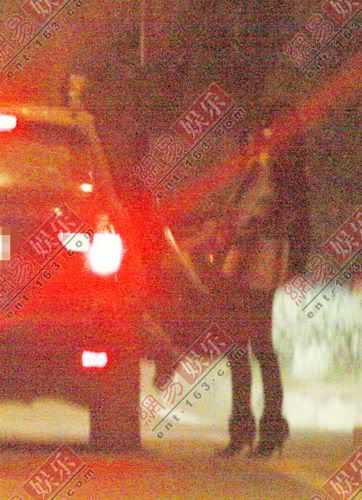 Michelle in friends' car back to her new villa home.
Michelle Ye who was once TVB's popular fa dan, was recently discovered to be wearing a fur coat while eating dinner in a small restaurant by the street, before going to a small scale massage and spa centre, undergoing a very commoner life.
Eating at average restaurant with good appetite
That day, after Michelle Ye participated in a promotion event in the afternoon, she immediately left her assistant to join her friends outside. At about 5 in the evening, Michelle Ye and her girl friends headed towards a restaurant by the street for dinner. To avoid her expensive coat getting dirty, Michelle immediately took off her coat after entering the restaurant, and changed into her friend's green winter coat. Both slim ladies ordered very generously a full table of dishes for steamboat, and were seen eating while chatting away animatedly. Michelle seemed to have quite a good appetite that day, she was seen eating the many dishes continuously while taking in big mouthful of rice. After meal, Michelle Ye who was treating swiped her discount card at the restaurant, it is obvious she frequents the restaurant often, the luxurious dinner was not more than 120 RMB, it is definitely economical. Both the ladies did not forget to pack away the leftover of their dishes and were seen leaving the restaurant with takeaway boxes.
Relaxing after meal
After fully fed, both of them were seen to enter a small scale massage and spa centre. Michelle Ye was seen to greet the staffs of the centre warmly, and both the ladies then were enjoying free tea while having a full body massage. It was said the service per hour was 68 RMB. Although the centre was simple and hygiene was average, Michelle and friend seemed to enjoy it very much, laughter was heard from time to time from within the room.
Takes friends' car back to new villa home
After more than an hour in the centre, both friends were seen chatting for about half an hour in the lobby until when two male friends came in a car to bring them home. The vehicle was seen to stop by a high profile villa area where Michelle was seen to enter her home. It was understood tat the villa area was completed in the beginning of 2008, according to the staff there, most buyers meant to invest, it became among the highly invested area. However after the economy turmoil, the price of the property decreased by 40%, causing most investors to bear lost. According to Michelle's blog posts, it was when the economy turmoil was at its worst when she moved in the area, causing others to believe Michelle who always invests in properties suffered quite some lost and therefore had to save in her daily expenses.