18 Dec 2008 - Michelle Ye denies dating Zhang Mo; no longer filming series
Michelle Ye denies dating Zhang Mo; no longer filming series
Source: Eastern Morning Paper
18th Dec 2008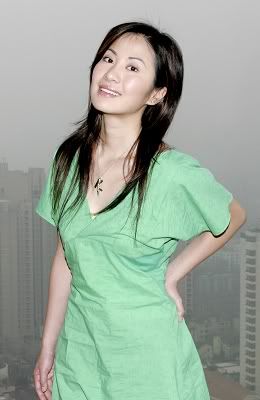 Yesterday, Michelle Ye who is currently busy filming Johnny To's first Hollywood movie 'Vengeance' suddenly appeared at Shanghai. Earlier on, Michelle Ye was rumored to be in a relationship with Zhang Guo Li's son Zhang Mo. In the interview yesterday, she clarified that that she does not wish to speak of rumors and honestly disclosed that Zhang Mo and her are good friends, but they have not been in touch after filming.
Silently disagrees with old company TVB's decision to lay off staffs
Reporters during the interview yesterday began discussing on the hottest issue in the industry. Michelle Ye who was once TVB's fa dan, when asked on her opinion about the laid off of employees by the company, she expressed that TV station should go through the hard times with their employees, and not easily settle with the decision of laying off employees. However, Michelle also expressed that she won't be filming series in future, "In Hong Kong, filming movies and series are differentiated very clearly, a lot of Hong Kong audience feels that stars whom they can watch on TV, they will be unwilling to buy tickets to watch (him) again in the cinema, I will be focusing on movies in future." Michelle expressed she has not rested throughout the year, has been filming movies, and next year will be the year her results are released. "I've filmed 'Sniper', 'Lady Cop Papa Crook', 'Assassins', etc, they will all be released soon, so next year is an important year for me."
In the interview yesterday, Michelle Ye disclosed that she is now bearing the responsibility of sending her step brother to further his studies in the States, "Although my financial pressure will become immensely large these few years, I believe I can take it."
Claimed to be single
Earlier on, Michelle Ye and Zhang Mo had a period of rumors, someone online disclosed that Zhang Mo and her were seen in Hong Kong Disneyland. Yesterday when confirming the fact with Michelle, she said she felt helpless, she said a blur photo of the backs of two persons and claims them to be dating is too baseless. "I've been in this industry for so long, a blur photo of the backs of two people, and then claim that we're dating, this is too baseless." Michelle insisted that she and Zhang Mo are friends known through filming, and they have very few contacts since. As for her own love life, she expressed that she is currently single. "I don't wish to be in a relationship these few years, I hope t concentrate on my work, what I wish most now is for rumors to be as far away as possible from me." Asked of the type she prefers, Michele expressed she loves gentleman in specs, this kind of gives her a sense of security.