16 Apr 2008 - 'Liao Zhai 2' Michelle Ye wittily portrays Xiao Long Nu earning high viewing points
'Liao Zhai 2'Michelle Ye wittily portrays Xiao Long Nu earning high viewing points
Source: Sina Entertainment
16th April 2008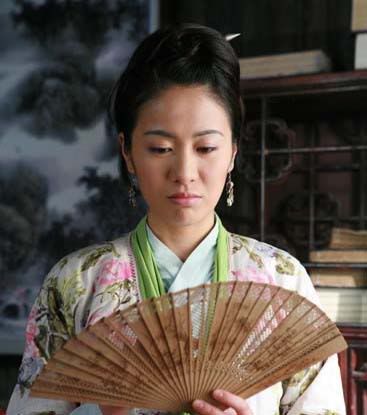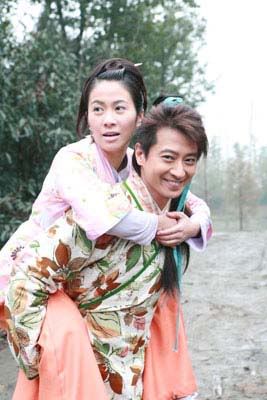 Ancient TV series 'Liao Zhai 2' starring artists from three lands such as Michelle Ye, Eric Suen, Benny Chan, etc is currently being aired on BTV-2 during its golden slot hour. The series comprises of 6 stories: 'Lian Xiang', 'Yan Zhi', 'Ying Ning', 'Fen Die', 'Yi Quan' as well as 'Luo Sha Hai Shi', where popular female star, Michelle Ye, turns around her past image in 'Luo Sha Hai Shi' - acting bubbly and adorable Long Nu.
'Luo Sha Hai Shi' tells a story about Long Nu (by Michelle Ye) who transforms into Xiao Qiao and secretly goes to the mortal world for fun. It was only when she was on her way back to the Dragon's manor that she realized her pass was lost, it was accidentally hooked onto Ma Ji (by Eric Suen). Xiao Qiao and Ma Ji then got to know one another, where a series of humorous yet touching story unfolds. 'Luo Sha Hai Shi' being the wrap up story of 'Liao Zhai 2' has long been anticipated by audience. Lots of audience expressed their anticipation to watch 'Hong Kong's Ancient Time Beauty' Michelle Ye playing Long Nu Xiao Qiao.
Recently, 'Central Affairs', 'World's Finest', 'Jiao Yi Sheng Ma Ma', 'Lost in the Chambers of Love' etc are being aired successively, allowing Michelle Ye to be recognized nationwide –be it a career woman Season, or kindhearted girl next door Jian Xiao Dan, she has given audience a deep impression through her excellent portrayal of her respective characters. In 'Luo Sha Hai Shi', Michelle again brought naivety and adorability to live, such a witty and lovable Long Nu, it has once again won the hearts of the audiences.
'Liao Zhai 2' has been aired in several channels nationwide as it won much support from the audience, in Nanjing, Wuxi and Suzhou, it emerged champion for the three locations for the highest viewing rate for the year 2007. The difference of this 'Liao Zhai'from its past was that they did not emphasize on the spiritual and demons but instead presented a lighthearted plot, scenes after scenes of 'human-fairy' love allowed audience to be touched after laughing out loud, it is no wonder it has successfully continue to earn high viewing points to date.