26 Dec 2007 - 'Central Affairs' of Wong Jing, Michelle Ye depicts battles of fame and fortune
'Central Affairs' of Wong Jing, Michelle Ye depicts battles of fame and fortune
Source: Sohu Entertainment
26th Dec 2007
Hunan TV is currently airing 'Central Affairs' every night at the 10pm slot. The series is based on the insurance industry with director Wong Jing, leading actress Michelle Ye, Tse Yin and Raymond Wong. It achieved proud results for ATV when released last year, beating the series aired by TVB at the same time slot; the superb performances of the lead casts won hot discussions and responses from audiences.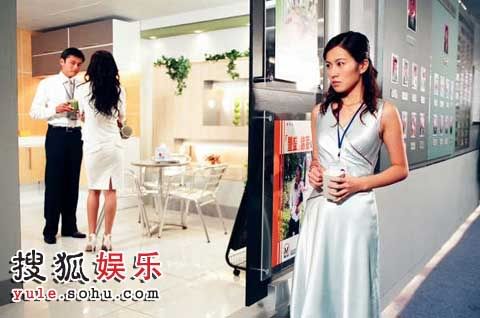 Central Affairs scene
'Central Affairs' was highly promoted by ATV and became the leading series of the year. All the recruited casts were renowned TV stars: It was Michelle Ye's first major film after leaving TVB – she plays a dynamically ambitious youth in the white collar career pave; while Tse Yin who left the TV industry for several years once again showed his exceptional appeal in the series; Raymond Wong plays the villain for the first time, it was a refreshing start, besides that there was also Taiwan popular actor Du Zhi Kong. With such reputable line of casts, as well as the interestingly twisted script which portrayed all out the inner hearts of human in daily lives.
Central – is Hong Kong's land of fame and wealth, it has witnessed countless of tycoons. The big boss of MIG Corporation in the insurance industry, Zeng Man Hou (by Tse Yin) has monopolized the insurance industry for several years. Besides his pair of legitimate son and daughter, he also has another illegitimate daughter, Sam See Sun a.k.a Season (by Michelle Ye) with his ex-lover, Sam Ching, Fate has its way, Season found herself entering MIG one day and got to know Kwan Cheuk Hung (by Gilbert Lam) as well as Hon Zi Kin (by Raymond Wong), where they fell in deep love. Man Hou's son, Zeng Lok Tin (by Du Zhi Kong) returned and fell in love at first sight with Season. Zi Kin did not wish to compete with the boss' son and thus chose to let go with pain. Season and Lok Tin dated but later discovered that they were related siblings of the same father and broke up.
Zi Kin has big dreams – in order to propel his career advancement, he married Man Hou's daughter Zeng Lok Yii and finally won the top position in MIG. Zi Kin signed insurance contracts by hook or by crook, and also framed his best buddy but was discovered by Zeng Lok Tin causing Zi Kin to murder him. Man Hou wanted to revenge for his son but was instead defeated by Zi Kin and was paralyzed due to stroke. At this moment, Season finally recognized her father and took care of him while vowing to win back MIG from Zi Kin. Season carried the bitter responsibility and chose to be misunderstood by her mother, Lok Yii as well as her loved one, Kwan Cheuk Hung, to return to the side of Zi Kin. The two persons who had once been passionately in love now began their intense battle…
'Central Affairs' is Michelle's first series after leaving her 'motherland' TVB, where it in fact received excellent viewing points. She played Season in the series which was a very different role than her usual girl-next-door characters. Season wishes to excel in life, strived to success, in order to get back her father's properties, she took in all sufferings, heed not other's criticism, as well as being misunderstood by her loved one, the persistence and complexity of the inner heart was brought to life by Michelle's acting, her acting excelled beyond the next level and received praises from several parties. Michelle who left TVB to sign contract with Media Asia will have more opportunities to work with a variety of actors. Her first movie, 'Moonlight in Tokyo' won her the nomination of the 'Best Newcomer' award, and led to be more affirmed of her decision to further progress into the movie industry.
From 26th Dec onwards, Hunan TV will air the series which defeated TVB's series, 'Central Affairs'. With eye candies lead casts such as Michelle Ye, Raymond Wong, Gilbert Lam, it will definitely earn high viewing points in Mainland, warming up television sets for the coming of Christmas and New Year.