13 Oct 2007 - Michelle Ye falls, Popularity dipping down
Michelle Ye falls, Popularity dipping down
Source: Apple Daily
13th Oct 2007
All these while, besides being successful in entertainment news channel, i-cable has also groomed star hosts like Chan Bui Yi and Luk Hou Ming, even TVB attempts to try entertainment news channel. However, their other shows do no leave much impression. Besides being a pay channel and being affected by TVB, they were also lacking some talented producers. This time, the entertainment channel produces their first comedy series 'Tutor Queen', it can be said to be their breakthrough efforts.
The 'tuition' theme is a Hong Kong thing
Although not all Hong Kong audience have watched this series, but those who've watched have commented positively. The series theme is fresh - although other series may have bring up the odd tuition tendency in Hong Kong, 'Tutor Queen' is the first series to be entirely revolving about this theme (tuition). The contents is mocking the awry tuition trend in Hong Kong, tutors transform into celebrities, shooting adverts, and have their autograph sessions, packaging them into idols to be worshipped by students… These elements are believed to be agreed by Hong Kongers besides tickling humor.
For just a relaxing half an hour, it is definitely more appealing as compared to TVB's 'Best Selling Secret'. In aspect of cast, they got the youthful new queen fad an who was made popular by TVB, Michelle Ye and pairs her with Roy Cheung who has been in the movie industry for quite long, it brings a very refreshing feeling, and the most unexpected is, it gives a very humorous result. It is most appropriate to ask Michelle Ye to play an English tutor queen. Her fluent English is definitely her selling point, she fits the character perfectly! Eric Kot and Candice Yu too did not disappoint audience, but the most surprising one must be Monie Dong, among the new actresses, her performance is considered the most natural. Her performance in movies and series seems to surpass her singing performance. When she entered the industry with Fiona Sit and Ella Koon, their achievement was not too ideal. Instead, she was praised when she attempted in acting. Her performance in 'Tutor Queen' has once again proven that she has chosen the right path.
Young fa dans appears in turn
In contrary, Michelle's popularity is definitely less after she left TVB. TVB still does have the reception privilege; even just a minor supporting role in big stations is more well known that the leading role in other stations. If she decides to earn the real fortune in Mainland, than there's nothing to say about her leaving TVB. However, she seemed to be still in Hong Kong during the two years after leaving TVB, and worked for ATV and i-cable. Although the series have quite good results, her popularity has still been dipping.
Actually, Michelle's acting skills is not bad among the young fa dans, she has been lead since her debut. However, Myolie Wu, Tavia Yeung from her batch, as well as those who debuted later than her like Bernice Liu, Shirley Yeung etc, have more popularity than her, it is quite a pity. It is no wonder that TVB has been able to keep their popular artist during the battle for actors, since TVB still seems to be the best way of maintaining popularity.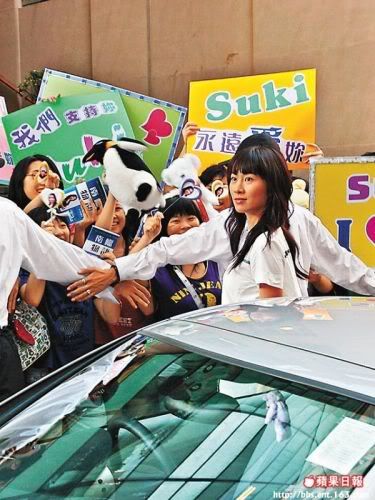 Michelle Ye plays a tutor fluent in English, and is worshipped by students.