31 Aug 2007 - Ellen Chen supports Michelle: We have plenty to chat
Praises her diligence in work attracts others' jealousy
Ellen Chen supports Michelle: We have plenty to chat
Source: Sun Paper
31st Aug 2007
i-cable's series 'Tutor Queen' which is in the midst of constant filming is being scheduled to be aired soon. Although there was rumor that Michelle Ye did not get along with other cast, there was in fact laughter and friendliness when Ellen Chen and she were filming a drinking scene together.
In the series, Michelle plays a good sister of Ellen Chen. After getting to know each other for about a month, Ellen frankly admits admiring Michelle's diligent personality, and is definitely not the rumored 'unfriendly / isolated' person. She expressed that she has known Michelle since filming in Mainland. In their first opportunity to collaborate in Hong Kong, she finally saw the wrongly-rumored Michelle, she could help speaking her support for her: "I really admire Michelle! She is very diligent, and serious in work, she does chat with me whenever we work together, others who badmouth her are maybe jealous of her, there definitely is some who are badmouthing of her!"
Ellen Chen who has not filmed for quite a while admitted it takes quite some effort to remember all the dialogues, she even needs to memorize dialogues when resting, so it is quite pressuring for her. Ellen who plays a lawyer meets with quite some relationship problems in the series and often chats with her good sister Michelle Ye. When asked if they relate their problems to one another in reality, she said: "We're not that close yet."
Thanks to Spencer Leung's care, Michelle Ye who too has not filmed in Hong Kong for quite some time looks fabulous when absorbed into filming, only seeming to have lost a little weight. She said: "I have eaten a lot! I won't go on a diet, because it won't look too nice to be overly thin before the camera. I usually hike the mountain, play golf, exercise is a must, thanks to Spencer's care, giving me a kind of drink, causing the colors of my face to brighten quite a bit." Spencer Leung, Eric Kot and Monie Dong too has quite some scenes together.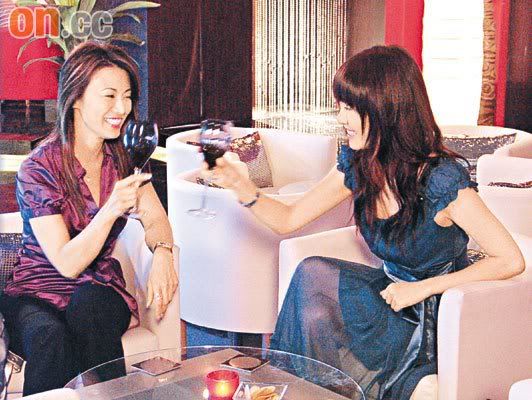 Ellen Chen and Michelle Ye plays sisters in the series, outside the series, they admire each other.
Ellen Chen praises Michelle to be serious in her work
Monie Dong, Eric Kot and Spencer Leung collaborate happily in the series.
--------------------------------------------------------------------------------
Ellen Chen defends Michelle Ye
Source: East Daily
31st Aug 2007
Michelle Ye and Ellen Chen are both newsworthy persons. With both of them in the cast of 'Tutor Queen', it was expected to have an fiery effect, little do we know that fate has it all. Michelle Ye and Ellen Chen chats non-stop at work, and even have mutual admiration and appreciation for one another.
'Tutor Queen' is currently filming, and there was rumor that Michelle Ye acted as big sister and does not socialize with other cast. However when reporters went to visit the set, they instead saw Michelle and Ellen chatting and laughing together.
Actually, Michelle and Ellen plays a pair of sisters in the series, they have quite some scenes together. Since filming, they've got along together for about a month's time, both of them not only did not have rumors, Ellen Chen even admitted her admiration for Michelle Ye. In actual fact, Ellen had already known Michelle while she was filming in Mainland, but this is the first time they officially work together, and even defends on behalf of Michelle: "I admire her being serious and diligent enough in work, she is not the rumored isolated person, maybe some people are jealous of her so they badmouth her!" In the series, Ellen often chats her problem with her 'sister' Michelle, when asked if they discussed their problems in reality, she smiles saying: "Not that close yet."
Besides hiking mountains to keep fit, Michelle Ye who has not filmed in Hong Kong for quite some time seemed to have lost quite some weight but still looks fabulous, she said: "I didn't go on a diet, I even eat quite a lot, because if we're too thin we won't look nice on screen. Normally, I go hiking, play golf and do some exercise to keep fit. Spencer Leung also introduce me to a kind of drink which enhanced the colors on my face."
This goes to prove that Michelle Ye does get along with other casts as well.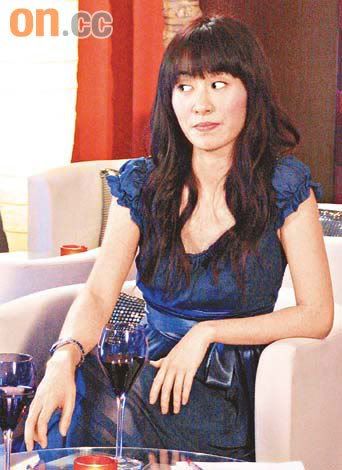 Michelle loves hiking and golfing during her free time to keep fit.