| | |
| --- | --- |
| Posted by Kim on November 7, 2006 at 10:28 AM | |
07 Nov 2006 - Michelle to get married
7th November 2006
A residence in QingJin Street shoots an interesting film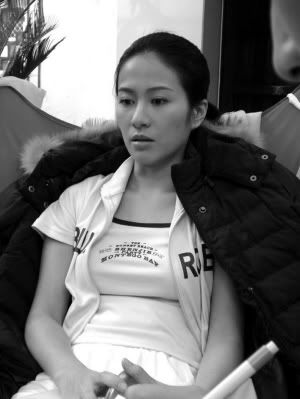 TV drama 'Ma Que Bian Feng Huang' has evolved to be named 'Jiao Sheng Ma Ma Wo Hen Ni' – it directly sounds like a very bitter romance film!  At this period of time, this new series is being hotly filmed in Hangzhou.  Yesterday evening, reporters went to Hangzhou city, Qing Yin Street to visit the filming set.  They met up with the two beautiful women, Michelle Ye and Sun Fei Fei, both who will portray a pair of sisters with very bad sisterhood. 
Be it 'Beijing, My Love' or 'How deep is love' that is hotly broadcasted, Sun Fei Fei with delicate features has always been a beauty on the outer, an even more beautiful in the inner.  Michelle Ye, who acted as a 'bad woman' in Central Affairs has also deeply penetrated people's heart.  However, for a change, in 'Jiao Sheng Ma Ma Wo Hen Ni, Sun Fei Fei will play a 'bad woman'.  How bad is bad? "Very bad, she kills her boyfriend, causes the death of the grandfather, causes the divorce of her parents and snatches her sister's boyfriend…"  This kind of person becomes insane at the end.  During the visit, it was coincidently when Sun Fei Fei is acting a 'bad' scene.  One of the scene is where the 'younger sister' Sun Fei Fei purposely tears up her 'elder sister's' Exam Certificate, thus changing both their life.  The 'younger sister' whose result is bad got into a second class university while the 'elder sister' who excelled in studies become a jobless youth… Michelle Ye plays a sister who is very intelligent and kind, and liked by everyone.
It was not only the characters they act that were different, the 'two sisters' condition were also totally different.  'Younger sister' Sun Fei Fei is totally absorbed into acting career, she keeps thinking of how to breakthrough herself and puts behind her family's urges to get married.  Meanwhile, Michelle Ye, yesterday emotionally disclosed the happy news that she will be getting married soon, the groom is from Beijing.  She will reside in Beijing after marriage, this is the first time she has revealed this happy news to the media.  "One or two years later, will quit the entertainment business." This popular TVB actress who always put life before acting has always been sure of what she wants.