14 Sep 2006 - Ye Xuan (Michelle) and Chan Kwok Kiong draws a line between their worlds
Source: Takung Pao
Ye Xuan (Michelle) and Chan Kwok Kiong draws a line between their worlds; Hung Tian Ming won't learn from father to pursue girls
14th September 2006
Photo: Michelle changes face color when talks about 'Shell King'
Yesterday, Michelle Ye, Sammo Hung (洪金寶;), Simon Yam (任達華
and Timmy Hung (洪天明
etc, all attended a golf product release conference.  Michelle in her sexy bare chest top successfully grabbed the attention of many cameras.  She revealed to the reporters that she has just returned to Hong Kong from New York.  She said: "This time's promotion I met a lot of close friends, they even presented me with flowers as support, I was really touched."  When talked about her rumored boyfriend 'Shell King' Chan Kwok Kiong, and that his new favorite is Xiong Dailin, Michelle's face changes color once heard about 'Shell', and insisted that is it none of her concern.  She said: "I won't reply to matters that are none of my concern."
Although it was a No. 3 Wind balls (direct translation since I don't understand golf!), but it did not affect the mood of the honorable guests, they all tried to play golf.  Sammo and Timmy Hung made a father-son appearance.  Sammo Hung likes to play golf, and Timmy Hung was asked if he played golf with his father, he smiled while replying that he asks his dad to play golf whenever he is free, saying that it was one of their source of communication.  When asked if his father did succeed his skills of pursuing girls to him, Timmy smiled saying his father only has one strategy that is no longer applicable now. 
Timmy frankly said his father has longed for a grandchild for quite some time, but he instead pushed the responsibility to his younger brother.  Sammy Hung laughed and admitted that besides wanting a grandchild, he also wanted to have another child of his own but his wife pays no attention to him.
Besides, Simon Yam who returned to Hong Kong from Beijing expressed that there was an unhappy happening during his travel.  He said that he immediately fell asleep when he board the plane that day, not expecting to alight at the freight terminal when he awakened.  He has demanded an explanation from the Airline, and it has been a week but he has yet heard from them.  Next week he will be flying to Kunming for work, he angrily expressed he would never take that airline again.
____________________________________________________________________________
Apple Daily
Earlier on, Michelle went to one of the restaurant in the State's for stage promotion, Teresa Mak who was rumored to have disagreement with her, there were reports that Michelle lost her singing tune, causing her to weep on the scene.  Yesterday, Michelle in her low chest cut attire, attended a golf activity expressed that she cried because she was so touched seeing her friends, and not because she was angered. 
Michelle, Simon Yam, Tang Kong Wing (鄧 光 榮;), Timmy Hung and Stephanie Che etc., yesterday altogether attended city's golf club promotion activity.  Although knowing that they'll need to demonstrate their golf skills, Michelle wore a low chest cut dress to the function, each time she bends her waist to hit the ball, her full chest will be revelaed to the front person. 
Same session as Teresa Mak
Earlier on, Michelle went to New York Golden Bridge 'Gum Giu' Restaurant to sing, another person performing at the same session was also the one who was rumored to have disagreement with her, Teresa Mak.  There were reports that because Michelle lost her performance standard, thus annoyed the audiences, causing her to weep at the scene.  There were also reports that the restaurant actually invited the two leading actresses from Central Affairs 2, Pinky Cheung and Teresa Mak to perform, but when Michelle learned of the news, she volunteered to perform.  Yesterday Michelle admitted that she did cry at the scene, but it was for another reason: "It was because I saw my friends, and was very touched, and couldn't suppress to cry, not because of any other reasons."
Taking the passenger / cargo plane
Besides, Simon Yam who returned to Hong Kong from Beijing using the Cathay Pacific Airlines met with an unhappy event.  He said: "I was arranged to sit with the cargo, but there were still meals being served, but I was very sleepy then, so I asked them not to disturb me.  When returned to Hong Kong, I called to lodge a complain at Cathay Paific, cause I don't understand why I'm arranged to have such a seat, but till now there's no reply."
As for Sammo Hung who attended the premier of 'An Inconvenient Truth' (Juet Mong Zhan Siong / 絕 望 真 相
alone, he was asked why he did not attend with Timmy.  He laughed: "This family is long dispersed!"  He explained that his daughter earlier on finished her summer job, reveals her sorrows to both her parents, and expressed that she has very little social life, and doesn't have a boyfriend, his wife went to the States to accompany his daughter.
News Report: Yip Suet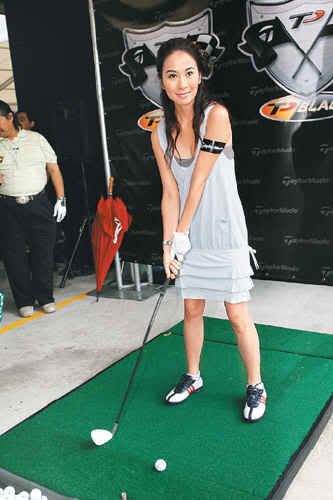 Michelle wears a low chest cut sports attire to attend golf activity

_____________________________________________________________________________
Ming Pao
Michelle coolly replies to the rumors of 'Shell King'
14th September 2006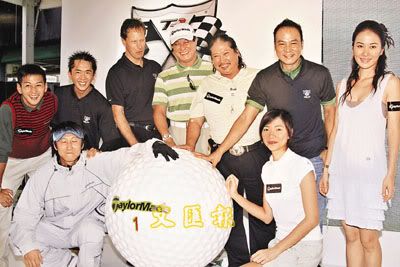 Yesterday, Michelle attended a golf activity.  As to 'Shell King' generously spent 20 thousand Yuan on her, she coolly replies: "None of my concern, it is the made up stories by magazines, I won't reply to reports that are fabricated."  When asked if she has her true prince charming, she even replied : "I won't tell you!"
Reporter: Leung Ciu Ming