23 Mar 2007 - Myolie Speaking About Kenneth: Simple-minded Kenneth has simple luck
Credits: blotty @ asianfantics translation request
Myolie Speaking About Kenneth
Simple-minded Kenneth has simple luck
By Myolie Wu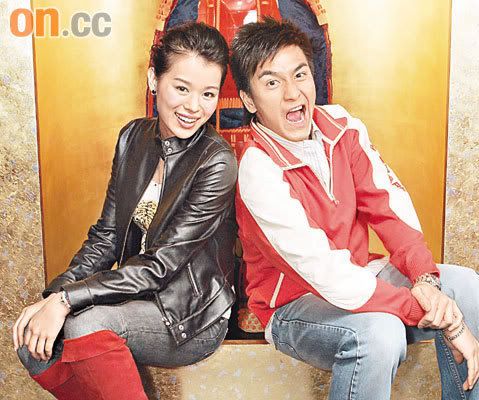 I just realized that both Kenneth and I entered the industry in 1999, but the first time we acted as lovers was in last year's series To Grow With Love. He is the first partner that I really admire. Kenneth Ma keeps emphasizing that he is a very ordinary person, but to me, he is not one bit ordinary!
Ma Ming is the nickname that we all call him by. A fan's website had a tabulation of the number of times I worked with all the siu sangs, and only when I saw this did I realize that I worked the most number of times with Kenneth. I remember many years ago when I just entered the industry, I bumped into a tanned, slightly skinny, long haired and very tall man who looked slightly ghostly at the corridor. Half his body was plastered to the wall as he walked, as if afraid of bumping into people or being bumped into. When he saw me looking at him, he immediately nodded his head shyly, and quickly walked away. Thus I have a special impression of this guy, and he is Kenneth.
Career: Discovered after acting as a pervert
Kenneth can be considered to be one of the lucky few. After 3 years of taking on minor parts, he got the first chance to be promoted. He acted as a pervert who was obsessed with torn stockings on Survivors Law and had to repeatedly stare at my legs! After this, many directors began to know of his existence, and he then took part in the filming of the anniversary show Triumph in the Skies.
Taking The Benz Hui Road
Opportunities kept coming, but Kenneth was extremely 'quail-like'. I remember when I filmed Scavenger's Paradise with him, K100 visited the set and asked him questions but he did not want to answer. Once when I talked to him, he honestly said that he only wanted to be like Benz Hui, and it was enough for him to be able to go to have dinner after work. Did you know that Benz Hui's car is also a Benz? If you continue to be 'quail-like', perhaps even the smallest opportunities would be lost.
3 years later, Kenneth has changed to become a siu sang, becoming more glib and willing to be interviewed. He frankly says that this was because of what the veterans advised him, "In this industry, one has to observe the rules of the game, if one doesn't observe them, one might as well not do it! As long as it does not go over one's minimum point it is fine!" Actually the veteran who gave him this advice was one of his idols Benz Hui!
Love: Has never dated Margie Tsang
When one is popular rumours will ensue, and Kenneth is no exception. Actually the first actress who was rumoured with him was Kate Tsui. He said, "When filming La Femme Desperado, it was the first time I was on the cover of a magazine. That time, I was really unhappy, I didn't understand why I had to undergo this torture!" Actually to an artiste, rumours are not necessarily a bad thing. As long as it is not written too negatively, it can become a good topic. Now, Kenneth will no long have meals with Margie Tsang alone, and even when they meet at the company's canteen, he is still afraid of rumours to some extent. Kenneth last relationship was 7 years ago, and his ex-girlfriend is already married. When asked whether he wants to date, he joked and said, "When I entered the company I already started looking for on, it's just I can't find any!" He admitted that he once liked the characters played by Michelle Yip and Cherie Kong! As his friend, I hope that he will quickly find a girl who is slightly more mature, even if she does not like Donald Duck (note: because Kenneth likes Donald Duck a lot), its ok if she likes Mickey Mouse!
Family: The sweet Donald Duck family
Kenneth grew up in a very blissful family. When he was studying, his parents never gave him any pressure and allowed him to make his own decisions. Even when he wanted to give up his job as an engineer to join the acting class, his family did not say anything much and allowed him to do anything as long as he was happy. Kenneth is close to his mother, and the family watches television together. When his mother sees special Donald Duck collectibles, she will also buy them for him. His family even celebrated the birthday of a Donald Duck stuffed toy! I really envy him for having such a good mother, no wonder Kenneth keeps saying that he wants to earn more money to give to his mother!
Epilogue: Not competing for awards
Kenneth and I were both nominated for "Best Actress" and "Most Improved Actor" award respectively for To Grow With Love during last year's anniversary. Before the award ceremony, I told him, "You will definitely win tonight!" Then, he said with his characteristically humble attitude, "You are the one who will win!" In the end, he really won and I got nothing! After the event, he suddenly walked towards me and looked at me apologetically, "I'm really sorry! Hang Yi," as if he took away my award. Now that I recall the incident, I really feel that Kenneth is really innocent, and very silly. I hope that this self professed ordinary worker who takes the train and bus to work will continue to improve while retaining his innocence and silly vigour.