15 Mar 2010 - Ming Pao #2157: Shall We Talk-Let Her Go
Shall We Talk-Let Her Go
Michelle Ye
PAGE 136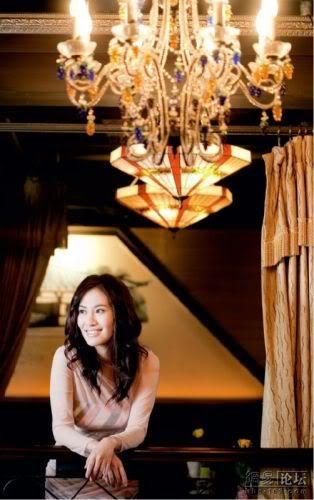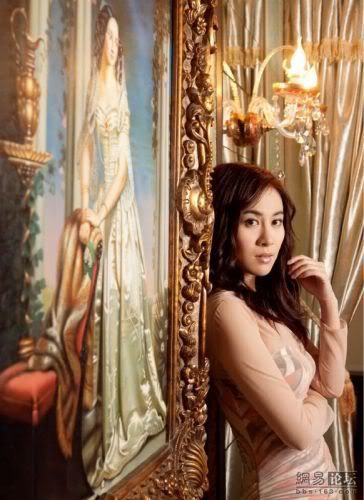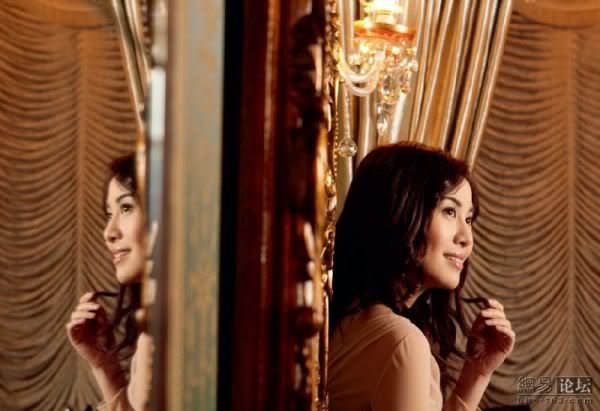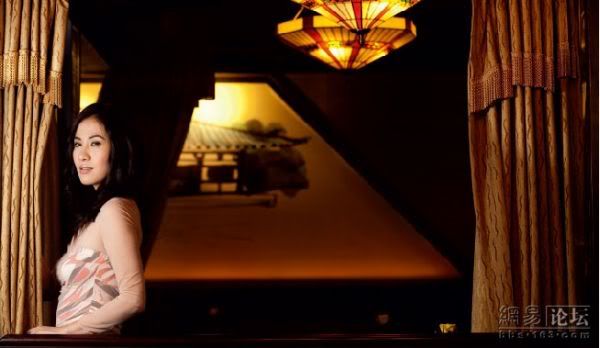 __________________________________________________________________________________

PAGE 137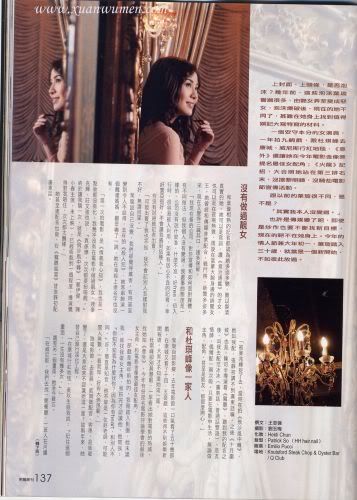 Becoming the frontpage icon, and making headlines, are these rumors actually reality?  Few years back, Michelle had lots of these rumors, from a sweet girl to a tainted one, after these rumors fade, she is now entirely different, and possesses the quality for extensive media coverage.
A diligent actress at all times, she films 9 movies in a year, goes on red carpet with Director Johnny To at Cannes and Venice.  "Accidents" even enabled her to be nominated as the Best Supporting Actress in this upcoming Hong Kong Film Awards; in "Fire of Conscience" press conference, she stands behind in the third row, not competing for media attention with Leon Lai, not acting overrated at the promotion event.
It is very different from the Michelle Ye in the past, isn't it?
"Actually, I've not changed personally."
Maybe it is the media that has changed.  Even if it was for the stirring of rumors, they needed new targets, it is now no longer focused on her.  This year's Valentine's is coincidentally the first day of Chinese New Year, also when Michelle first steps into the age of thirty, taking it as a new beginning, why not let each other go.
Have not acted a beauty before
Reporters who are familiar with Michelle Ye thought that she is a person of variable personality, the true her is hard to ascertain.  She can be the talented girl who writes poems and reads "Zi Zhi Tong Jian¡" (资治通鉴  - a historical literature piece by Sima Guang), she can too be the rumor queen who dances in nightclub and revolves around the wealthy ones.  She was once very cooperative with the media, and is always ready to face the media, her news is of diversity, now she discloses almost nothing, and is certainly much more reserved.
"The company I'm signed with now, has a different approach towards promotion and managing media, but I've not changed personally, my attitude in handling matters remains the same, (my) company did not limit what is forbidden and what is allowable, very free.  When I first entered the industry, it is easy to be manipulated, if there are reporters with bad intents, luckily Media Asia is very good, they won't let me meet such people."
Have you experienced being betrayed by reporters before?
"Maybe they did without me even realizing, I won't remember how badly others treat me, there is no need to recall."
Michelle Ye says she did not change, yet we felt the change is tremendous, at times the change is so significant she is no longer familiar, in the "Murderer" last year, she guest starred as an ugly looking mother, and gave the audience quite a bit of shock, yet she didn't even have a name on the movie poster.
"The first time I filmed movie, it was "Moonlight in Tokyo", I didn't put on any make up too.  I almost never act a beauty before in movies, even Alan Mak and Felix Chong said, "How pitiful, you have no chance to look good (in the movie) every time."  Finally, they gave me a chance to look good, it's in "Once a Gangster" (leading Ekin Cheng and Jordan Chan, yet released).  I've been so ugly that the director felt guilty towards me, that I was ugly all the time."
She has also done dubbing before, in "Overheard" she dubbed for Zhang Jingchu in Cantonese.
"I was caught by Alan Mak, I was filming "Once a Ganster" at that time, he requested me to dub, Zhang Jingchu couldn't speak Cantonese.  After that, "Bodyguards and Assassins" too, Director Peter Chan after watching "Overheard" and heard my dubbing, asked me to dub for Fan Bing Bing (both Cantonese and Mandarin), it was the friendship factor, so I dub once in a while.  So long it is a life in the movie, be it as the lead or the supporting and even just an audience, I am just as happy."
Like a family with Johnny To
Michelle Ye admits that she is a movie addict, when she went to the film festival last year, she watch fifty movies in a row, in Cannes she watched another some fourteen or fifteen movies, these were not reported in the entertainment news, thus no one knows this side of her.
Yet Johnny To seems to have the wise eye, and saw her passion for movies long before, he got her to film "Accidents", and she was nominated for Hong Kong Movie Association's Best Actress award as well as Hong Kong Film Awards' Best Supporting Actress award.
"This movie was filmed a few years ago, when I just entered the movie industry, he still didn't know me, yet he let me be the female lead, I only got to know him after finish filming, he asked me, "Do you know why I got you (to be the female lead)?  Because you have the heart, you're different from others." Huh, he is a real pal.  He is not merely a good teacher, maybe because he's met countless people, he knows with one glance, he has the style of a warrior."
Attending film festivals, going to film exhibitions, dubbing, and guest starring in low profile, was it that  Michelle Ye has changed, or that the audience never really got to know this side of her?  These two years, she has made herself undergo an intensifying project.
"At Cannes on the red carpet, Anthony Wong told me, "Remember this scene, there won't be too many times (of this) in a lifetime."
There was another scene that is unforgettable to her to date.
"In Venice, we found a restaurant, the whole group of us walked on the pebbled path, after over an hour, I felt that it was very warm, just like a family, To Sir, his wife and other colleagues."
_____________________________________________________________________________

PAGE 138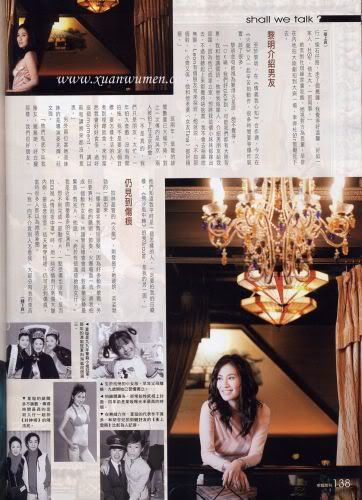 She often goes to Johnny To's house for meals with his family, she takes him as her elderly, there was once when she was very ill while filming in China, it was lucky To Sir gave her motivation to endure on.
Leon Lai introduces boyfriend
As for Leon Lai, (they) have worked together before in 'Moonlight in Tokyo', this time around, they're collaborating again in 'Fire of Conscience', working hard to film this action movie, a lot of times when they had to wait for the preparation of the explosion scene, they spent time talking a lot.
Leon's favorite phrase is well known as the rare Martian language, yet she does not deem so.
"Ok wor, we click well together, maybe because we both have the Mainland background, we speak Mandarin.  He becomes my matchmaker, introducing boyfriend to me, because he has built his family, and wished to see this little sister marries too.  But it seems weird even to me, I don't really do these blind dates stuff, Leon has this friend who often visits our filming set, so he simply said, "Why not that one."  Richie too!  He and his wife (girlfriend Tina) are very enthusiastic too."
These two years, Michelle Ye's rumors have declined drastically, the last she was rumored to be with Wu Jing, the two were photographed to be dating in Beijing.
"It is not true, we are just friends, too busy, filming 9 movies a year, there is simply no time to date.  I don't need to fix a target, or the kind of life I want, when it comes, I will treasure it, I will do my best for this moment, there is no meaning in discussing the past or speculating the future."
The other two who treats her like their little sister are Director Alan Mak and Felix Chong.
"They call me Zhu Lui (Pig Girl), Zhu Zhu sound, very foolish, we are very good friends, they know what kind of person I am in reality, they want to film my foolish self, in 'Once a Gangster', I'm quite cute, it is the other side of me."
Scar still visible
When filming Dante Lam's 'Fire of Conscience', her tough side is revealed.
"Director requested me to cut short my hair, because there will be a lot of action and firing scenes, the appearance must be brisk (for the actions).  His camera angle, explosion scenes are excellent, filming me like an action actress.  Dante Lam is a member of the gun society, and is very particular about how a gun should be held, after editing, he said, "Finally there is a girl who can hold a gun."  I am the actress who fires (a gun) the most in these recent years."
Surprisingly, after completing the filming of an action movie, she has none injury at all, instead when she filmed ATV's 'Central Affairs', she accidentally stabbed a knife into her thigh and was sent to emergency room.  She was wearing a short skirt today, and the scar is still visible, while a lot of people were convinced that she was merely creating news back then.
_______________________________________________________________________________

PAGE 139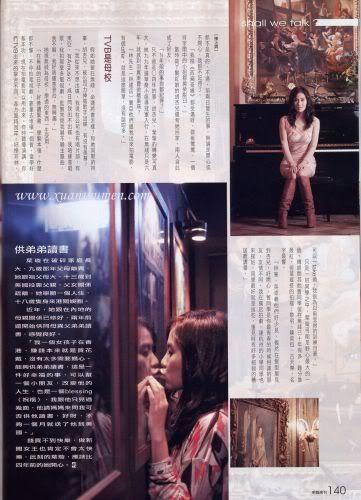 "I have never really mind how others judge me, most of what were written about me are not true, but, what happened in the last two days, be it happy or not, I will not take it to my heart."
"I was also injured when filming 'Lost in the Chamber of Love', I was playing Cui Ung Ung, a lady from a wealthy family who dislocated a joint while chopping the wood. "
Myolie who played the maid, Hong Liong, piggy-backed her home, they became fast friends since.
"You remember such long ago incident?"
It was only back in 2004, yet Myolie and Michelle Ye have both undergone a lot.  She was the crowned pageant of Miss Chinese International in 1999, and entered the industry, and was with TVB for a mere 6 years, and yet she had dared to take the risk, be the independent sparrow to soar into her own skies?
"Mr. Lam (Lam Kin Ngok), Media Asia sought me to film movies, it was simply because there was such an offer, didn't think too much."
TVB is root school
If she had stayed in TVB, how would her fate be then?  Raymond Lam and Myolie Wu who were of her generation were heavily promoted by the company to be singers and have their own albums, does she envy them?
"I've never thought of having my own album, my current company has music department too, there's Amusic, they often asked if I wanted to have my own album, I don't like singing, filming so many series, producers often asked me if I wanted to sing the theme song, but I didn't want to, I don't like to perform onstage, it's not my interest."
She deems TVB as her root school, what she has learnt (in TVB) is beneficial and useful for a lifetime.
"The days in TVB, it is like the school days, learning the basics, I didn't know anything, I filmed endlessly, depending on quantity to improve on quality, after (I have) built a solid foundation, I can use them when filming movies now.  Sometimes when I listen to the director, (they comment that) those who are from TVB are simply different, exceptionally fit in all aspects, saving a lot of films, can pass within one take, I am proud of my training in the past."
However, among the generation of classmates, Michelle Ye may be the most ambitious one, without realizing, those ex-colleagues of hers have been with TVB for more than a decade, it is hard to identify who is more popular, but Michelle's partners… Leon Lai, Edison Chen, Louis Koo are all the most popular names around.
"Seldom meet Raymond Lam and Ron Ng, sometimes bump into Myolie at salon, we're very happy, ex-classmates are friends you got to know during your younger years, the friendship is different.  When I was filming series in Hengdian, there were primary school students who came to visit the set, these are the best classmates, there are a lot of memories to chat about when you meet again one day."