01 Feb 2009 - Trends Health # Feb 09: Private Fun
PAGE 140
Hong Kong Female Celebrities
Private Fun
The Truth Behind
The big entertainment circle in Hong Kong taught us to worship idols
Taught us to gossip, taught us to be curious and spread rumor
Hong Kong female celebrities who constantly live under cameras,
How do they find entertainment and leisure, how do they do their show,
How do they struggle, how to they fight for their privacy,
How do they play hide and seek with the HK paparazzi,
This issue will expose to you the private life of Hong Kong female celebrities,
Perhaps, it may vary from what you've always thought to be…
PAGE 141
Do female celebrities only shop in branded outlets?
Their life should be so, sashaying in their heels so high it needs acrobatic skills, and with shades big as mask, it seemed that the more they try to hide under layers of clothing, the easier they get recognized, paparazzi and passer-bys tail them everywhere they go, pity these stars, with their several shopping bags of branded outlets, they could only flee in despair…
Q: Reveal to us a bit, where do Hong Kong female celebrities shop?
M: Just a few places. Hong Kong is quite small, Central, malls, my shopping habits are more like men, I only shop when I need something, just a few certain shops, leave after grabbing what I need.
Q: I'm quite confused, Hong Kong's work pace is so rapid, the filming is so much faster than China, how come Hong Kong female celebrities give me the feeling that they always have time to shop, I don't believe you don't shop.
M: Haha, because paparazzi are always around shopping places, they will capture anything that shops. I go to art exhibition too, but I don't think anyone has shot photos of me there right? They probably don't even know that such exhibition venue exists in the first place.
Q: When Mainlanders go to Hong Kong for vacation, they can never have enough of shopping.
M: Yea, I have another situation where I will go shopping, that is when I have to entertain Mainland friends to go shopping. Not too long ago when Xie Na (MYR tip: female host of Happy Camp – Kuai Le Da Ben Ying which Michelle participated) came, so I brought her shopping. Now with the economy downturn, Renminbi can exchange for more value of Hong Kong dollar, she was so jubilant over it. Hong Kong's winter discount season starts from December, so people should take that advantage to shop as things will be really cheap then.
Q: Will there be special events for Valentine's day?
M: Definitely. Hong Kong's Valentine's day is a very spending event. Malls will have shows and games, you will get something if you go onstage, but you need to be really bold, cause they will ask couples to kiss, etc.
Q: Tip us a bit about shopping in Hong Kong.
M: You must bring a local with you when you are shopping in Hong Kong, because they give certain credit cards discount rates, usually visitors do not have these cards, they may get only 10% - 15% discount where as with a local credit card you get much more discounts up to 40% or more.
Q: Will those branded outlets give celebrities some priorities?
M: Yes they do, like MAC, in Hong Kong, celebrities or professional make up artists can buy these at 20% discount, but you must prove your identity. You need black and white identification…
Q: Ah? So no face recognition discount?
M: Even if they recognize you, this is their condition, that is why it's funny. If there is no black and white identification, even if Andy Lau appear in person, under the circumstances that he can't provide black and white prove of his identity, he can't get the discount. Finally, MAC staff asked my assistant to go by some entertainment paper or magazine that reports something about me, to prove that I'm Michelle Ye, then they will give the discount.
Q: That's so funny, then anyone can go buy some paper that reports on certain celebrity to claim that it's themselves, can that work? Especially those celebrities lookalike.
M: You still need your identity card together, maybe because there have been too many of such cases. Haha, I think it's quite funny too.
Q: Then, is it true that some outlets will close their shop few hours just to serve their VIP customers? If I'm not mistaken Taiwan female celebrities get such treatment.
M: Yes, they do so to give their customers the peace and privacy to shop, cause once celebrities appear, paparazzi will be around immediately. Hehe, maybe others will see this as special treatment, but it is actually due to the inconvenient public status of celebrities.
Q: Is there anyone in the industry who is an extreme shopaholic like rumored?
M: Actually for us in the industry, we rarely have any opportunities to go shopping, we usually find some designers to help us shop. I too only frequent the shops by my house. Shopping for work is limited to just few branded shops. Sometimes during our chats, we do exchange experiences, I remember Roger Kwok tipped me about a shopping place quite some distant from centre of city, but they have varieties and give discount, they even sell furniture, PRADA, DIOR, they all give up to 80% discount, but it is quite some distant away.
Article Icon: Ye Xuan
English Name: Michelle Ye
Birthplace: Zhejiang, Hangzhou
Weight: 42kg
Height: 165cm
Education: Wellesley College, Boston, US
Winner of Miss Chinese International Pageant, actress, host
Works: Undercover Hidden Dragon, Red Circle, Assassins, Simply Actors, Lady Cop Papa Crook, etc
Hosted shows: Scent of Woman, Women's Forbidden Zone
PAGE 142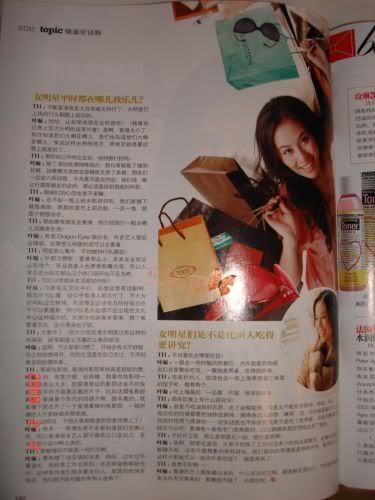 Where do female celebrities usually look for entertainment?
Q: Maybe Hong Kong is really too easy to bump into paparazzi, female celebrities dress as though they are going to work too when they go out for fun.
M: Haha. You mean wearing like this? (pointing to own fur coat). Yea, Hong Kong is too small, paparazzi knows where about we will be, we too know where about they will be, wearing like this to such places, that's definitely a move to make headlines.
Q: Then do you dress up when you go out just for fun?
M: Besides functions (work related) and some special occasions, I usually wear T shirt with long pants, if I put more effort into make up and put on a dress, friends will start to ask me if I'm going on a date. They say, to have the ability to make Michelle put on a dress for a date, it must be a very good looking man.
Q: That's very much like us out here.
M: May be even less (effort to dress up) than some career woman. I live just nearby to Temple Street, I go shop for clothes at their night market, I only demand for comfort.
Q: Then if friends go to Hong Kong, where do you recommend them to go for nightlife.
M: There is a very famous place, Dragon Eyes, a lot of celebrities go there too, if you want to meet celebrity, you should try there.
Q: Celebrities concentrate in one place, aren't they afraid of being tailed and take photos by paparazzi?
M: Long used to it, Hong Kong is so small, there are just those few places anyway. Also some are looking for chances of making headlines. So it is no big surprise they tend to concentrate at those few hot places.
Q: How do you find entertainment usually?
M: I like to go to the arts and culture centre. They usually have stage performance there, exhibitions, but Hong Kongers seem to be too busy, not much time to go there. I think the advantages of going there is that I can be more relaxed, paparazzi will never appear in such culture centre. Foreigners who come to Hong Kong and wish to learn Hong Kong's culture should visit the centre too, it's a good experience to listen to some Cantonese opera.
Q: This is quite a surprise, very few Hong Kong female artists have such intellectual nature, usually their lives seem to be messed and hectic.
M: Yea, everyone is used to it. Maybe not too comfortable at the beginning, but if then accept it later on. Your live your own life, there is no need to present it to the media.
Q: What about watching movies, Hong Kong's cinemas are of very good quality.
M: Yes, it is very convenient, also very good, I have seen that Mainland cinemas usually only have popular movies released recently, but Hong Kong will have cinemas showing some French classic movies, or re-showing some classic Hong Kong movies in the past, there are lots of choices. Recently, a cinema opened just below my house, most premier of movies are shown there.
Q: Saying so, aren't you afraid that everyone can check where you stay?
M: Actually… probably anyone in Hong Kong knows roughly where we (celebrities) live. Thus Hong Kong celebrities don't favor going out for fun, usually we just have parties at home, etc.
Q: Then wouldn't you all be 'caught' in one go if some one snooped?
M: Then it's up to you to be as 'friend' and 'buddy' as possible with the security guards, haha, whenever there are any festive occasions, you should give some gifs, I usually bring some flowers or cakes after work for them, then if our friends are coming up, we will call the guards beforehand so that they don't allow suspicious cars in.
Are female celebrities more selective of what they eat?
Q: Where do you usually go to eat?
M: Usually to some western restaurants, I also like to have meals with friends at home, usually one gathering will take up to two tables, a very merry meal.
Q: You're from Hangzhou, you should've been to some restaurants with Shanghai or Jiangnan dishes right, can you recommend some?
M: 'Yi Ping Xiang' is not bad for Shanghai dishes, I love to go there.
Q: So, do you have any preference for food?
M: I don't really take deep fried food, because I get sore throat easily, but I just can't quit on fried chicken, haha, so every time I take friend chicken, I will peel off the fried skin, everyone around me will be 'tired' of me. Besides I also take bird's nest everyday… honestly, I don't know if it really helps in health, but I see that my complexion is not too bad, right? Hong Kong has a street that specially sells all kinds of bird's nest, when Na Na comes this time, I will bring her to buy more.
Q: What about during work times, with so many stars together, do you only eat lunchboxes?
M: Yes, just eat lunchboxes, we don't have much time to talk or meet besides during work, so we take the opportunity to chat, we are not too selective (about food) as how outsiders think, we like directors who work quickly, then we can get off early to go for some noodles, that is quite a big effort already.
Q: Never thought of that…
M: Hong Kong celebrities are all well trained, there are no sufferings they have not experienced, they can bear with all, TVB artists have no days and nights, there is no time for sleep even, least to say eat.