| | |
| --- | --- |
| Posted by Kim on August 5, 2008 at 10:42 AM | |
05 Aug 2008 - Highlighting Guests
Highlighting Guests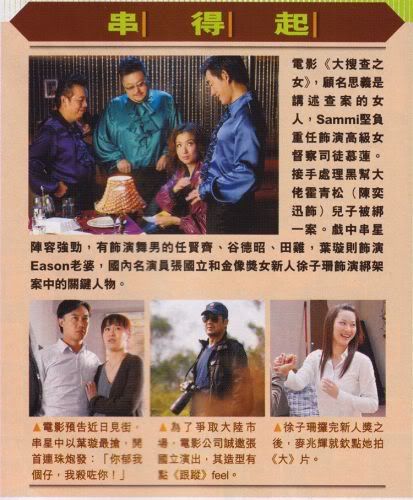 'Lady Cop, Papa Crook' movie is about a woman who investigates a case, with Sammi playing high ranking police officer, Tzeto Mou Lin. Her collaboration partner is a mafia boss, Fok Cheng Chung (by Eason Chan) whose son is involved in a kidnapping case. The guest stars in the movie is quite a line up, with Richie Ren as a dancer, Guk Dak Chiu, Tin Lo, Michelle Ye plays Eason's wife, Mainland popular actor Zhang Guo Li, as well as Best Newcomer Award winner, Kate Tsui who plays a critical witness in the kidnapping case.
> The trailer was recently released, with Michelle Ye as the most outstanding among the guest stars, her performance was most fiery from the very first scene of the trailer: "If you touch my son, I will kill you!"
> In order to win Mainland market, the company includes Zhang Guo Li in their cast, his makeover has the 'Eye in the Sky' feeling.
> Since Kate Tsui won the Best Newcomer award, Alan Mak recruited her in this big production.