04 Jun 2008 - Life Lesson #278: Witty Princess
Source: Life Lesson Issue #278
Michelle Ye
Witty Princess
Michelle Ye's true-life routine
Chat with Michelle Q & A
PAGE 372
PROFILE
Ye Xuan (Michelle)
An Aquarius full of artistic nature, taking up political science in Wellesley College, Boston, crowned champion in Miss Chinese International 1999 as well as winning Most Classic Beauty award, becoming an actress having signed contract with TVB, major works include 'Gods of Honor', 'Reaching Out', 'Network Love Story', 'Eternal Happiness', 'Golden Faith', 'Triumph in the Skies', 'Central Affairs', etc series. Her favorite sports are tennis, swimming, cycling, bowling, dancing and pool.
*****
From a Miss Chinese International pageant to a popular film star known in every household, Michelle Ye packed her own schedule so tightly it is bursting very soon, from the phobia of a newbie to today's maturity, Michelle Ye begins understanding how she needs to arrange a her new life routine as well as a whole new life tempo. "If I were to do anything else for myself in life other than work, then I am now aware that I should live healthily, rest well, exercise at ease."
*****
Big Quote at left side bottom corner:
"Many times, I have found new inspirations and rediscover a new side of (my)self while exercising, working out allows (my) physique and soul to breathe in freedom."
*****
Q: After you left TVB, what are you currently doing?
A: I have signed a new management company 'Media Asia Films', currently filming movies.
I have filmed over thousand episodes of TV series, I would like to try movies instead. Currently filming a movie with Johnny To, I play an assassin in the film, during the filming, Director Cheung Pou Seui has also allowed me much space to perform.
Q: Most people know you from the variety of images you portrayed in series, it is by impression that you played many bitter series, are you very proficient in this film genre?
A: Actually no, I played many roles, there are also those humorous ones.
It is only because bitter series makes deeper impression, so many people tend to think I am someone who is always melancholy, where it is actually totally in reverse, in real life I am actually a simple and happy person.
--------------------------------------------------------------------------------
PAGE 373
Captions of top left pictures:
The acting profession has blessed me with lots of surprises, when I hear some stranger calling out my name, that is a feeling of joy.
Participating in the pageant is a fortuitous opportunity, when I was in much doubt, lots of people gave me courage.
Actually I am very interested in computer science field, also the biotechnology field, if I had not become an actress, I might go into the IT profession.
*****
Big quote on top right corner:
"If you are keener and more earnest towards life and work, you will harvest more unexpected joy and blessings."
*****
Q: You walked towards movies from series, how is this transition path?
A: Filming series is definitely the best training for a newbie.
This is a journey where the accumulation of quantity leaps towards quality. In Hong Kong, lots of actors progress towards movies from series, series gives most people very good training. The appeal of movies captivates me very much, after all, the demand of movies are into deeper performance, movies have very high expectation towards their actors.
Q: It was a tough time in TVB, what do you think you have gotten?
A: It is a very good training for a newbie.
TVB gave me many chances, allowing me to improve from a newbie into a matured actress who has a certain solid base in acting, as well as the courage to carry out a variety of roles. Although the times in TVB was very tough, the high workload has allowed me to build my performing style, I have also learnt a lot of precious acting skills from many teachers, as well as be a good actress with a solid basic quality.
Q: How many series have you filmed to date?
A: Not up to 40, but the number of episodes for each series differs.
It is normally 30 to 40 episodes. One year we film about 200 episodes, lead in 2 to 3 series, sleep for 2 to 3 hours a day, filming continuously for 6 years, this is my life routine during the my series days.
Q: Which role you have portrayed that you are most confident of?
A: Actually they're all okay, I love playing roles where the girl dresses up as man.
But usually for bitter series, my tears are summoned within 15 seconds.
Q: What kinds of opportunity does signing contract with a new management company bring you?
A: Actually the biggest chance it has brought me is to be able to film movies.
This is my dream, and I am prepared for it, although I do have some fear, but after 6 years of filming series it still has given me more confidence than other newbies. 'Media Asia' allowed me to have more matured roles from fa dan roles, portraying roles that are more heartfelt, allowing me more space to perform myself.
Q: Are you someone who loves new in comparison to old (stuff)?
A: Actually, I am someone who especially reserved, I also don't easily make big transformation in my career.
Even the handphone model I use is a very old model, I don't really go after the latest electronics trend, my demand towards life is a natural and relaxed mode. So I am usually very relaxed in real life, I'm someone who don't intentionally go after a certain aspect of life.
Q: What kind of character do you think you are?
A: I think my character is quite carefree, I am definitely someone who is always very energetic.
Filming in TVB has trained me to have a good attitude towards work, also training me to have good working stamina. Actually my character includes a lot of manly features, someone whose nature is simple and carefree.
--------------------------------------------------------------------------------
PAGE 374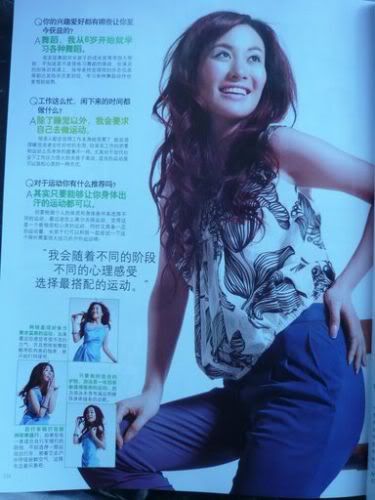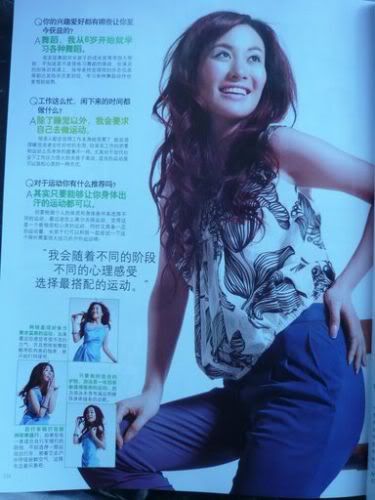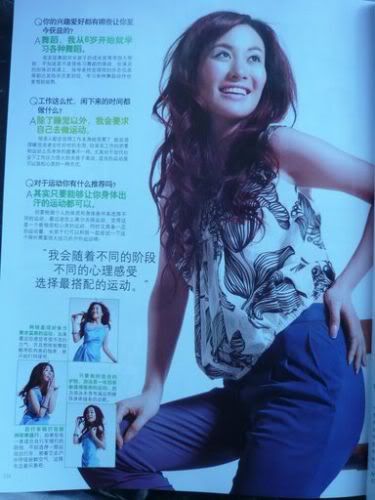 Q: What are your hobbies that have benefited you till today?
A: Dancing, I started learning all kinds of dance since I was 6.
I realized dancing is a great guide towards the growth and maturity of girls, I don't know if it's because I learnt dancing, in the training classes of actors, our instructors feel that my pacing, gestures and posture is more ideal than other students, it is also easier to learn any new dance steps.
Q: Since you are so busy with work, what do you usually do when you have any free time?
A: Besides sleeping, I demand myself to work out.
Lots of people think working itself is tiring enough, so they choose to sleep or eat, but actually the exhaustion from work and from working out is different. Especially in society these days, for a girl with high pressure at work, appropriate exercise is a method that can help relaxing your soul.
Q: Do you have any recommendation for sports?
A: Actually any sport that allows you to sweat is good enough.
But it should vary accordingly to a person's stamina and physical conditions. I recently became addicted to golf, I feel that this is a sport that allows me to relax my soul, while allowing you to work out to a certain level. Girls, you can take after my steps to try out this outdoor sport that needs lots of skills in swinging the club!
*****
Big quote on bottom left side:
"I choose the most appropriate sports according to the different phase (of life) and emotional stage I undergo."
*****
Captions of bottom left pictures:
Tennis is a sport that has high demand of stamina, if you recently feel that you have more than enough energy, and wish to build your arms muscle, then start training tennis.
As long as you take proper skin protection, swimming is a sport that is recommended throughout the four seasons of the year, because swimming itself helps reducing pressure and helps refining your bodyline.
Cycling is very popular in Europe, if you have a route that is suitable for cycling, why not choose this sport, cycling outdoor to breath the fresh air, you can even sightsee while cycling.
--------------------------------------------------------------------------------
PAGE 375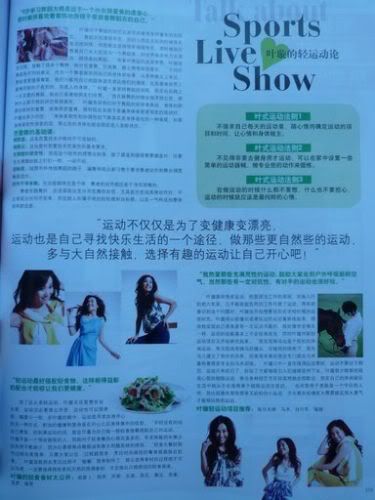 Sports Live Show:
Michelle Ye's theory of light workout
Ye's Rule of Sports 1
Do not force onto the amount of workout to be done daily, decide the type and time for sports according to you mood, allow your emotions and physique to decide.
Ye's Rule of Sports 2
It is not necessary to go to gym for workout, you can design some light workout setups at home, do some specific workout as training.
Ye's Rule of Sports 3
Do not think of anything while working out, do not worry about anything, your mood should be most simple when working out.
*****
"Learning dancing at the age of six may be for the pleasure of a little girl, that time, (I) love watching myself in the dancing attire on the mirror of the training room."
Michelle's memory of dancing seems to intersect a lot with her childhood memories. "Dance training is very tough, when other children are playing, I am in the training room training, but I do feel blissful and joyful, that time I will imagine myself growing up to be a dancer, going all over the globe to perform, to dance beautiful dance routines." With her beautiful dreams of dance, Michelle trained earnestly everyday, getting to know all kinds of dance, she loves all kinds of dances including ballet, traditional dance, Jazz, etc, "Different dances have different significance, as a dancer, they have to tell a story through their bodies, from a certain aspect, dancers are very admirable, they can only speak of their thoughts and emotions through their gestures. In my opinion, there is nothing harder to control in order other than a human's body." Michelle has been persistence in her dance training, she can now dance a complete dance routine be it for her self-appreciation or for friends. "I tend to forget myself when I am dancing, I love that condition where I have nothing to think about." Michelle told us for beginners in dancing, the stretching training of the dancer's body is very important, thus she recommends ballet. When discussed about the lack of flexibility in the physiques of girls these days, Michelle also expressed her concerns: "The reduction of agility and balance of body actually is a symptom of the body's degradation, if a person's agility is very poor, then your body tend to enter the aging phase earlier."
Ballet Basic Lessons:
(This part of translation is omitted since it is too ballet-technical to translate)
*****
Big quote in middle of page:
"Working out is not merely for health or for beauty, exercising is also a channel in search for a joyful life, do more natural sports, have more interactions with the nature, choose interesting sports to allow yourself be happy!"
*****
"I really love those sports which are mentally challenging, I encourage everyone to walk outdoors to breathe in fresh air, of course those sports which are challenging, those with opponents are also very fun."
Michelle Ye loves many sports, but due to her work, being in the industry ever since 6 years ago, it seems that all her working out were taken over by her heavy workload. Becoming aware of this matter two years ago, Michelle began wanting to resume the working out days she had during her studies times. Michelle resumed training the sports she has ever learnt, and rediscovered her passion and skills for them, just like when learning to ride a bicycle, the skill can't be easily lost. Simultaneously, Michelle began studying new types of sports, "I discovered that horse riding is also a very relaxing sports, there was once during filming when they need a horse riding scene, under the training of a horse riding instructor, I came to build a good relationship with the horse, even after the release of the film, I went to watch professional training of horses." Michelle kept insisting that sports should be relaxing, do not be over exhaustive in sports, only relaxing and fun sports will become appealing enough for one to continue on. Michelle seldom does those extreme sports, although she collaborates very well when participating in variety shows, she wouldn't choose those extreme sports to do at her own free time. "Maybe I am a very reserved person, I prefer those simple and light sports, I don't really like those grand and challenging sports."
Michelle Ye's recommendation of light sports: Golf, horseback riding, cycling, yoga
*****
"Light sports is best matched with light diet, this combination can then allow us to be healthier."
After talking so much about light sports, Michelle wanted to make her point clear that sports needn't be challenging, sports can be simple, in her eyes, sports is another channel of search towards a happy life. Health and fitness is the bonus harvest after achieving joy. "Usually I don't have time to cook, but if I do sports, I will try to make a light meal myself to match my sports." Michelle is not a very good cook, but she has quite a wide knowledge towards light dishes. Fruits and salad that helps refurbishing your body needs is a must, substituting salad dressing with Olive oil and Italian vinegar is her specialty. "A feast of light dishes is simple to prepare, all you need to remember, the simpler the preparation is, the faster the dish is prepared, the lighter the meal is." Michele said since the preparation is 'lazy', then the process of choosing the ingredients should be stricter, natural ingredients must be chosen, only then can light dishes become more appetizing.
Michelle Ye's recommendation of light dishes' ingredients: Carrot, Celery, Watermelon, Apple, Cucumber, Uncooked Vegetable, Seaweed