| | |
| --- | --- |
| Posted by Kim on September 5, 2009 at 9:04 AM | |
Source: Wen Wei Po
5th Sep 2009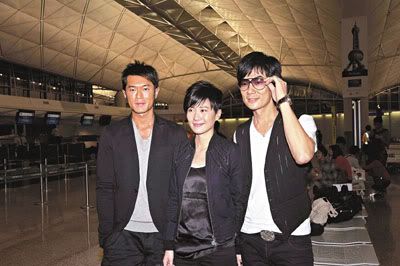 Louis Koo, Richie Ren and Michelle Ye heading to Venice.
'Accidents' produced by Johnny To will be competing in Venice Film Festival. Main cast Louis Koo, Richie Ren and Michelle Ye headed to Venice the night before last. Louis claimed that 'Accidents' filmed for nearly one and a half years, it was a very challenging process, and he is full of confidence for the festival, while Richie Ren was no less excited, preparing up to eight suits of attire for the event, Michelle Ye also had a hair cut exceptionally short just for a near appearance for the event.
Michelle Ye has never cut her hair this short since her debut, she hopes she will bring some luck to this trip. She is recently filming 'Fire Dragon' with leon Lai, and admitted she has congratulated Leon Lai on his marriage.
__________________________________________________________________________________
Source: Eastern Daily, Ta Kung Pao, Headlines Daily, Apple Daily