| | |
| --- | --- |
| Posted by MYR on October 21, 2009 at 10:47 AM | |
Source: Wangyi Engertainment
21st Oct 2009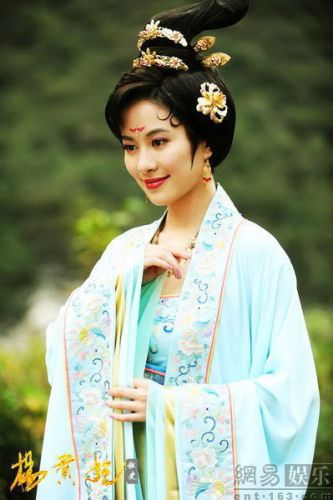 Long Xiao Gang's 'Legend of Lady Yang' is currently being filmed, and recently filming photos of Yin Tao, Shi Xiaoqun, He Saifei, Michelle Ye, etc female casts are being revealed. "Legend of Lady Yang' has assembled several beautiful female actresses, and is definitely a series of beauties.
Tang Dynasty's 'Lady of Guo'
As Miss Chinese International pageant and fa dan of TVB, Michelle Ye is definitely a female lead material, and has produced several successful TV series. Michelle who has the ancient beauty grace, deals with matters in a low profile manner, and has an accurate portrayal of role, allowing her skills and beauty to earn the recognition of all her supporters. Her career has been a smooth sail, the transition from TV series towards movies, and who has recently been internationally recognized, and under the recommendation of good friend, Anthony Wong, she becomes Emperor Xuanzhong's (of Tang dynasty) favorite among the chambers of imperial concubines. From this photo, Michelle's gentle grace has brought Lady of Guo's charm to life.
After Lady Yang got the love of Emperor Xuanzhong, this sister of Lady Yang appeared in stunningly beautiful manner and her appearance becomes the focus of attention. Lady of Guo who knows of no boundaries, made used of her sister's power, collects briberies, interferes with ruling matters, stirs nepotism among ministers, while flirting with Emperor Xuanzhong, while also spending nights with imperial cousin Yang Guozhong, knowing no boundaries, and bothers not for etiquette. As elder sister, Lady of Guo in fact receives good education since young, and is a recognized wise beauty. However, Lady of Guo is naturally arrogant, and is flirtatiously beautiful, she does not like making up. Every time she enters the palace, others would be thickly covered in make up with exception of Lady of Guo who simply put on light make up to meet the emperor. Her uncommon personality yet blessed with natural beauty not only won the deep love of Emperor Xuanzhong, but also was granted the special access to palace anytime she feels like to.