| | |
| --- | --- |
| Posted by MYR on October 27, 2009 at 10:37 AM | |
27th Oct 2009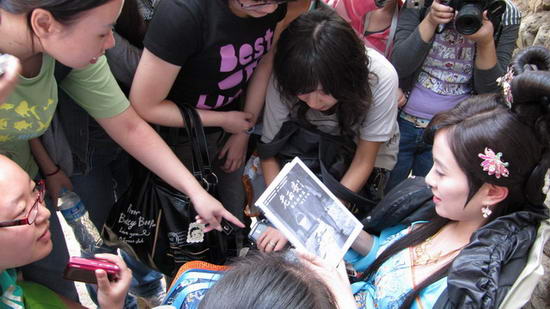 Michelle at filming set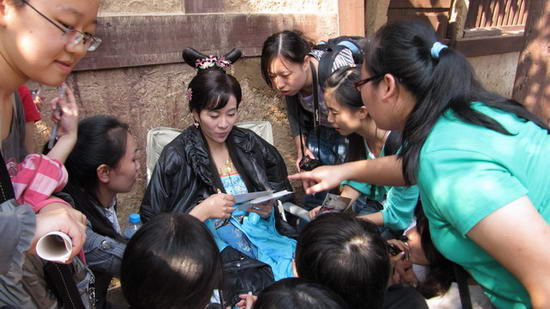 Fans visitng set of 'Legend of Lady Yang'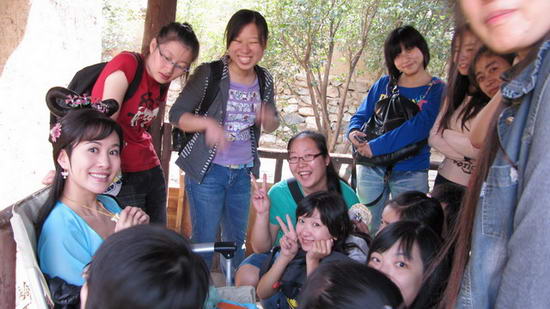 Michelle Ye and fans
Recently, Michelle Ye who has been filming historical drama 'Legend of Lady Yang' at Shanxi once again stirred a lot of touching scenes. And today came a troupe comprising of people from all across the country, and has been assembling at Shanxi's train station. They are in fact fans who've travelled intentionally from Beijing, Shanghai, Shenyang just to visit their idol, Michelle Ye.
On the day of the visit, Michelle was busy filming and could not meet with her fans immediately. But the fans were very accommodating; the entire team was very organized and waited patiently at the specified location. Notably, the visiting group is a large group, where the group had prior to the visit divided tasks among the committee to ensure that filming is not in any way interrupted.
Every detail was done orderly, showing unity and friendship among them. The fans said that they were very happy to see their idol. Of course, they are most happy when they watch the quality works of their idol. After a round of introduction, fans presented Michelle with thoughtful gifts they had prepared. Michelle's warmth and friendliness as well as humor spread well around the entire set. Throughout the several hours of meet, the group was very happy and excited. Seeing the sincerity of her fans, Michelle was very thankful for their support. Apart from her expressed words, Michelle was also moved near to tears. Finally, due to timing, Michelle was unable to sign all the autographs and had to bring them back to her hotel to finish.
On the second day, fans came to the set to watch Michelle film. They were again very organized. The fans were excited but they were disciplined enough to supress their emotions and only silently watched by the side, not affecting Michelle or the filming crew at all, it was really enviable for others. Even the filming crew complimented Michelle's fans to be of high quality.