Source: http://www.tnp.sg/show/story/0,4136,220284,00.html
12th Nov 2009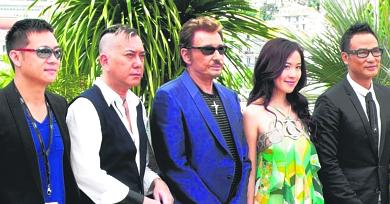 'VENGEFUL' STARS: (From left), Eddie Cheung, Anthony Wong, Johnny Hallyday, Michelle Ye and Simon Yam. PICTURE: SHAW ORGANISATION
Being part of a predominantly male cast did not faze Michelle Ye one bit.
The 29-year-old actress has acted in back-to-back testosterone-charged films; first in the suspenseful Accident, released a couple of months back, and now in Vengeance, the new Johnnie To-directed crime thriller.
Vengeance, also starring French pop icon Johnny Hallyday and veteran actors Anthony Wong and Simon Yam, is now showing in cinemas.
'For me, I don't get bothered so much about whether I'm overshadowed by the guys or not, it's always about challenging myself,' said the Hangzhou native.
'In Vengeance, even though my role was a supporting one, it was something that I've never tried before.'
But Michelle is looking forward to acting in a female-centric film soon, as well as other career breakthroughs.
'It takes time and experience to build up a repertoire. As directors know me better, they would be willing to craft better roles for me,' she told FiRST.
Anthony Wong, on the other hand, shared with us good memories of working with the legendary Hallyday, whom he described as 'a gentle old man with no airs at all'.
'Hallyday walks slowly and when it's time for his scenes, he'd be smoking quietly in a corner,' said the 48-year-old.