Source: Sina Blog
7th Dec 2009
Hong Kong popular celebrity Michelle Ye was at Elite Learning English Centre, Teacher Yu Xiang who was accompanying, experienced a once in a lifetime different way of learning English. The experience this time will be the content of Sohu Entertainment's Popular Icon Laboratory program, demonstrating a scene of unique 'Elite' environment of 'Popular Icon English Show'.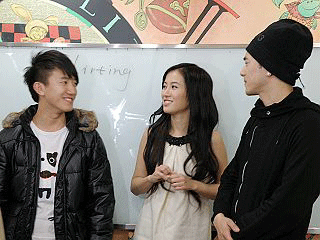 Elite Learning English Centre teacher, Yu Xiang (left), Michelle Ye (middle), host Li Chen (right)
Upon stepping into Elite Learning English Centre's main entrance, Michelle immediately praised the learning environment, not only having impressive interior design, the learning atmosphere was very rich.  Most of the students were in class, there were students articulating pronunciation from time to time, Michelle was excited upon seeing this, saying: "The students here are very diligent, I need to learn and polish my English too."
In the midst of shooting, Michelle's fluent English expression earned Teacher Yu Xiang's praise.  Instead, she modestly replied: "I still have a lot to learn, I have much to learn from you still."  She was then humbly seeking teacher's advice and teaching for several times, while also raising her learning and opinions as well as doubts towards English.  Teacher Yu Xiang responded to her with humor, as well as giving her little tips in learning, Michelle Ye appeared smiling throughout, nodding in agreement.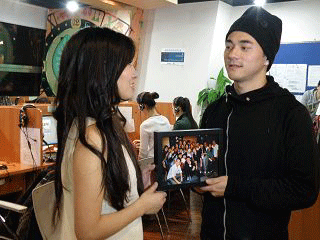 Michelle Ye (left) and Li Chen holding on to a group photo of Elite Learning English Centre
Elite English teacher, Yu Xiang cooperated with host Li Chen to create a humorous atmosphere, causing the atmosphere to be merry, the entire shooting was joyful, Michelle Ye was also very cooperative in every segment, using English to reply to host Li Chen's questions.  When asked about her recent films, she suddenly tried using English to express ancient dialogues, causing others to admire her 'innovative' spirit.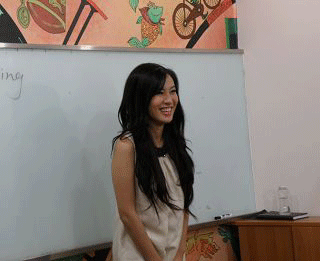 Michelle Ye smiling throughout the shooting of the program
In the midst of laughter, the program was successfully shoot.  Michelle Ye once again expressed how much she like the teachers and atmosphere of Elite Learning and hopes that she has the chance to become guest and come for learning.  She also wished that more talents can be nurtured to allow people to experience this kind of 'happy English learning' method which will also come handy in future for communication.