Translated By: Michelle Ye's Realm
Source: Xinhua Net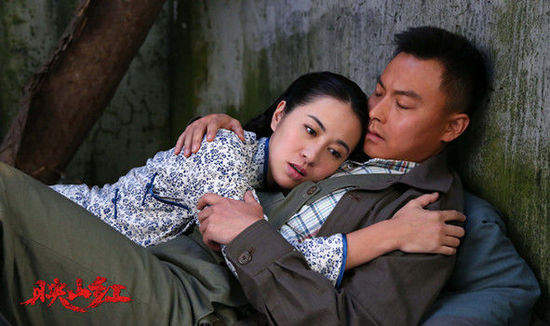 TV series 'Ying Shan Hong' whose script and plots personally directed by renowned director and screenwriter Xue Xiaolu (http://en.wikipedia.org/wiki/Xue_Xiaolu), casting Michelle Ye, Tian Hairong, Monica Mok is filming rapidly. In this legendary mega production of the revolutionary times, Michelle Ye plays Chen Manjin where her love for the 'artistic youth' caused much comedic scenes, bringing some light hearted moments in the solemn script.
Plays 'lover girl' in series, madly in love with 'artistic youth'
TV series 'Ying Shan Hong' is a series of anti-Japanese war and the revolutionary times. The four main leads in the series build a strong friendship bond during the war times, even after long times, their bond remained. Chen Manjin played by Michelle Ye is a country girl through and through, and tags after her life saver, Ni Zhihui and joins the revolutionary group. She is simple and straightforward, and dares to walk her talk, and is forever at the frontline during war times, as well as being bold enough to pursue her loved one when she met him.
Chen Manjin is seemingly unable to resist being attracted to knowledgeable and talented man.
An adorable scholar of the village, Lin Fengqi becomes the first man Chen Manjin admires. In order to save Lin Fengqi who was imprisoned, Chen Manjin armed with firearms attacks the police force all alone, she also robs the casino to fund their escape, and nearly died in action. When the suave and gentlemanly Dr. Taan rescued and nursed her back to health, Chen Manjin is secretly touched. She becomes his assistant throughout some days, yet when her love was rejected, she even pointed a gun at him to love her… Although Chen Manjin's 'love story' is blind and aggressive, Michelle in fact revealed that she is touched by the character: "She is bold in pursuing love, and is even willing to sacrifice her life for love, these are rare gems in love."
A 'single status' in reality; confesses (she) enjoys her current status
In the series, Chen Manjin plays scenes after scenes of comedic love story, and is fervently and passionately pursuing her love. In reality, Michelle Ye is in fact of the 'single status', she expresses that her single lifestyle is best for her currently, "In my opinion, marriage and love are two matters. Actually, I'm less inclined towards marriage, when I'm with friends now, living our single lifestyle, it is best for me currently."