| | |
| --- | --- |
| Posted by MYR on April 9, 2014 at 7:20 PM | |
Translated By: Michelle Ye's Realm 
Source: Sina Entertainment
Recently, Michelle Ye who has the title of 'role model of the entertainment industry' attends events continuously for days, with an average load of four to five events in a day. She is present for the promotion events of 'Overheard 3' which is scheduled to hit the screens on May 30th. In the mega-production police-bandit story of 'Overheard 3', Michelle Ye plays the wealthy heiress of a business conglomerate, and has some most intriguing scenes with her fellow co-casts such as Sean Lau, Louis Koo and Daniel Wu.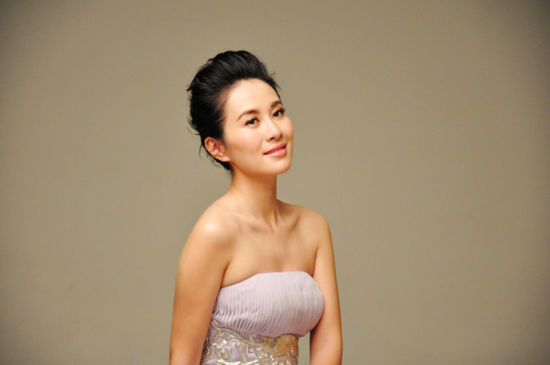 In 2011, Michelle Ye played a natural and convincing Tsui Foon in 'Overheard 2', her performance without the slightest hint of reservation won Director Felix Chong's testimonial and confidence as "Today's top Chinese movie actress." In 2014, Michelle Ye again cross path with the Overheard series, and plays the third and favorite daughter of the monopoly man of New Territories (district in Hong Kong) Lu Hanyu, Lu Yongyu. Lu Yongyu who studied overbroad in England brings back with her new approaches into the district, and plays the crucial icon who decides on the fate of Lu's Corporation… In this film of a crowd of dashing men, Michelle Ye becomes the most appealing female character who shares intriguing scenes with three of her co-casts, Sean Lau, Danial Wu and Louis Koo.
For the best of 'Overheard 3' promotion, Michelle Ye squeezed her time from her busy movie and series filming schedule, rushing between Beijing and Shanghai for the respective promotion events. In just two days, she has promptly completed photo shoots some of the region's top magazine and media namely CosmoBride, Grazia, Sport Weekly, BQ Weekly, iFeng as well as the programmed for TV shows including 'Guang Ying Xing Bo Ke', etc. "Everyday (she is) busy from 6 in the morning till 10 at night, with interviews session even during her make up time. Although her schedule is very tight, she demands her best performance in all her works and events." Such elaboration from her crew reveals that she is entirely committed and gives her 100% to her works, and is the most well deserved person for the title, 'role model of the entertainment industry'.